FANS SPEAK OUT is a section completely for the fans!  Fans can voice their opinions about their favorite artists, CDs, concerts, etc.  Some fans write in, and want questions answered, so some questions are answered here.  Though we can't add every comment we receive due to the amount, we will try and add a couple different comments from time to time...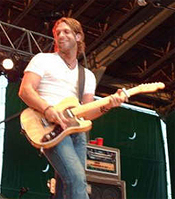 More Comments:

Blair: Keep up the great work!

Kimberly:  Country music has a total package with Eric Church!

Margaret - to Montgomery Gentry: I was at the MG concert last night (5/27/2006) at the Dodge Music Center in Hartford, CT.  I was totally blown away. I have not been listening to  country a long time, but will certainly be an avid fan from now on. The opening acts were very good also. Thanks for a great evenings entertainment. Keep up the good work.

Carol - to Rascal Flatts: I love your song Skin.  My daughter is 20 months old - she doesn't have cancer but she does have cerebral palsy and seizures, a lot of the lyrics in the song any parent can relate to if they have gotten bad news about their

baby. She is also mentally underdeveloped...

Jacque:  The new country artist
Kelsey
has just released her album Sept.6.  Check out her web site:
www.totallykelsey.com
. She is really taking off. Thank you - A sold out fan!!
Suzanne: I would just like to let you know that Rachel Proctor has inspired me so much by the song Me And Emily.  I left my daughter's father a couple months before this song came out because of domestic violence.  My daughter's name is Emilie

and when I heard this song, it made me think of me and Emilie.  I just want everyone to know that domestic violence is not worth it, even if you have a child, because one day he/she could be hitting the child instead of you.

Kathy wrote in and wanted to know the meaning of Josh Turner's single, the "Long Black Train.  Could you explain the meaning of the people on the track and what is happening?

In regards to her question with "Long Black Train," the devil is driving the train. The people who are saved, are those who are saved by God. The ones that "disappear" are taken by the devil (in this case, the person driving the train)... If their sins are forgiven, when the train passes over them, they will be saved, as those who are left standing are. If their sins are not forgiven, the train goes right over them, and the devil has completed his mission.  -- That's how I see it as.  Thanks for the question!

Britt: I love your photos of Rascal Flatts!  Take some more!

Comment & picture --- Billy Currington!

The concert was amazing!

Billy sang "Why, Why, Why" - "She Knows What To Do With A Saturday Night," "Let's Get It On," "Stand By Me," "Must Be Doin' Somethin' Right," "Growin' Up Down There," "I Wanna Be A Hillbilly," "Where The Girls Are," and I think "Good Directions."  He sounds amazing even when he is live!  So, I had an amazing time and I am so happy I got to see him.  He is so talented and amazing and so passionate about what he does!

-Samantha Kingsdorf

December 2007
— Leslie Rabalais:  December 21st of this year will mark the tenth anniversary of the tragic death of one of country music's most talented young stars. You may remember Amie Comeaux, a blonde haired, blue-eyed beauty from the small town of Brusly, here in Louisiana. In an effort to see that she and her wonderful music are never forgotten, a new video has just been released as a tribute to her and all she could have been. It contains a live performance, television interview, music and slideshow videos, biography, and DVD rom content with over 1000 photos of Amie. For more information, your readers can visit
www.amiecomeaux.com
. People around here still remember and love her and I hope others will too. Country music lost a gem nearly ten years ago. How sad for us.   
April 2007 — Shawn:  Just wanted to say that Jake's [Jake Owen] song "Startin' With Me" is a great song.  I was told that the song was written by Kendall Marvel from Thompsonville, Illinois.  I live 30 mins. from there.  It's cool that someone close to home wrote that song. God bless.

Lucie: There is an incredible up and coming country artist.  His name is
David Church
.  He is being featured on RFDTV's Midwest country.  We think he is the BEST!!! He is incredible.  His website is: 
www.davidchurch.net
  You should
listen to his song: Blue Side of Town and I still Need and Still Want You.  He is awesome!!!

Kelly H:  I am looking for the name and artist for the following song.  It is a man singing about his wife who has cancer.  I believe it might be "strong," at least that is a main word in the song.  Thanks!!

» The song is "Tough" by Craig Morgan.  The chorus says:  "She's strong, pushes on, can't slow her down.  She can take anything life dishes out.  There was a time back before she was mine... when I thought I was tough." »

March 2007 — Beryl: Please could you mention on your site ::  Leasowe Castle Country and Western Music Club - Every Thursday Night In Poulton - Vic's Club, Wallasey Wirral End of M53.  Live artist supported by Bob's Country Disco... Good parking and bar.  Line dancers welcome.  Phone: 07809245561

Angela:
Eric Church
has released his new song Guys Like Me and his video debuted on CMT and GAC which is a really cool video check it out on GAC or CMT also check out his website at
www.ericchurch.com
February 2007 — Ashlee:  I love Taylor Swift. She's so awesome.  Her music is great.

Lincoln:  I LOVE Carrie underwood!

December 2006
— Alyssa:  To everyone living or going to be visiting Nashville and you want to hear some amazing country music, you need to go and see
Lewis Copeland.
  He plays at the Stage on Broadway every Thursday & Saturday night @ 10:45 p.m. and Friday nights @ the Country Monkey @ 9p.m.  The Country Monkey is across from LP Field. Check out
www.lewiscopeland.com
May 2008 — Tammi:  I agree with Kimberly...Eric Church is THE best!  Country music was great before Eric, but now, with Eric....WOW!

Shawn:  Eric (Church) is truly just the nicest guy!!!  Love him!!!

Caroline:  Thanks for putting my pics in the M&G section.  Very cool. :)

March 2008 — Amber:  I love the "You, Me and The Windshield" (Marcel) CD.  I love every song that's on it!  It's great..

Candi:  I love all of the wallpapers!

February 2008 — Betty N:  Today I received my sweepstakes prize of Anne Murray Duets.  Thank you so much for such an enjoyable prize and thank you for having the contest.

January 2008
  — Rhonda Goss:  Please check out what the fans are doing to go that extra mile for
Reba
at
www.secretofgiving.com
  It has been posted as a sticky on Reba's Official site
Reba.com
/ rebanet / under ask the staff answers.  Please help us spread the word... Any help would be greatly appreciated
Summer:  Taylor Swift ROCKS!  I'm her number 1 fan.