Ashton Shepherd: 'Sounds So Good' – Album Review

by Janelle Landauer

Ashton Shepherd is a young newcomer in the country music spotlight.  But, even though she is only 21 years old, she is already showing wisdom way beyond her years.  Her debut album, Sounds So Good, showcases her strengths both vocally and as a budding songwriter.  In September of last year, she released her debut single "Takin' Off This Pain" on MCA Nashville Records.  Her entire album was produced by the hit producer, Buddy Cannon and was released on March 4, 2008.

Shepherd brings a bit of sass and attitude that blends perfectly with her twang-filled vocals for this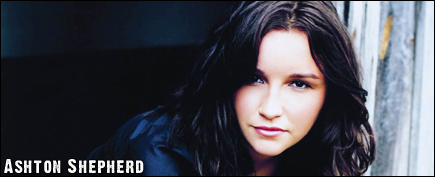 Featured Artist:  ASHTON SHEPHERD


project.  "Takin' Off This Pain" is a fun and sassy up-tempo song that deals with a case of the typical "love-gone-wrong" romance.  But, the girl in this song isn't going to put up with this man for very long though… Shepherd sings of "takin' off this pain" – which is in reference to the wedding ring that her man had given her. I've been wearin' it 'round now for way to long / And I'm more than ready to see it gone / And I'm the only one who can set myself free / So, I'm takin' off this pain you put on me

Early on with the release of "Takin' Off This Pain" – a lot of fans quickly compared her style of music to that of Gretchen Wilson.  And, it's probably true that Wilson could have had a hit with the song.  But, the good thing about Shepherd's album, Sounds So Good, is that the album separates her away from any similarities that she might have had early on to Wilson.

With a debut like "Takin' Off This Pain" – it was hard to imagine how Shepherd might sound on ballads.  But, all it takes is one time listening to "Old Memory" or even "How Big Are Angel Wings" and you will find out fast that Shepherd can deliver on both up-tempos and ballads.  The up-tempos that are receiving the most praise include her debut single, her new single "Sounds So Good" and "The Pickin' Shed."  The favorite ballads include "Old Memory," "Regular Joe," and the touching song, "How Big Are Angel Wings."

On her debut, Shepherd's name is next to every song except one for songwriting credits.  In addition to the 7 tracks that she penned alone, she also co-wrote 3 more with her brother-in-law Adam Cunningham.  And, the remaining track that she didn't write ("Whiskey Won The Battle") was written by Cunningham.

Shepherd's latest single, the title track Sounds So Good was released just in time for all the summer fun.  The song was a perfect release for radio – and even country music stars like Keith Urban, Sugarland and Miranda Lambert are praising the single.  There's no doubt that Shepherd is talented and with the release of her debut album, she proves that she is here to stay in the country music community.