CARRIE UNDERWOOD - Some Hearts

Oklahoma native Carrie Underwood beat out rocker Bo Bice to win Fox's hit reality show, American Idol.  Underwood could have released an album with any style of music and have a hit record under her belt.  She is one of the few out there that doesn't need a specific classification on her music, but she chose to take the country route.  Underwood favored country music throughout the competition always showing a little bit of her Oklahoma country roots.

"Some Hearts" places Carrie in the center of country music.  Her album was produced by some of country's best - "Mark Bright and Dann Huff (SheDaisy, Keith Urban..)   The album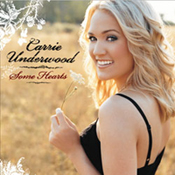 starts off with solid music and the end doesn't fare far from there.  Although the song "Some Hearts" is more "pop influenced," Underwood hits the core country fans with songs like "Jesus, Take The Wheel."

Underwood's current single "Jesus, Take The Wheel" describes the way that everyone should view their lives - with Jesus in control no matter what the situation.  To make the long "story" song short, Jesus needs to be in control and in the song she throws her hands in the air to let Jesus guide the way.  This song is so powerful and Underwood nails it.

On "Before He Cheats," you find a more rough tone to Underwood's range, but it works for this song particularly.  What a perfect way to share in the joy of sweet revenge than with a sassy, fun song like this one. I dug my key into the side of his pretty little sooped up 4-wheel drive, carved my name into his leather seats... I took a Louisville Slugger to both headlights, slashed a hole in all four tires.  Maybe, next time he'll think before he cheats.

I can't find a whole lot to critique Underwood on.  She has a solid list of songs, an exceptional voice, and based on her "TV" appearances, she is an unbelievable performer.  "Some Hearts" would easily qualify as one of the best albums from a newcomer this year.  A high quality, professional and complete project from this true American Idol. - Janelle Landauer

Featured Artist:  Carrie Underwood