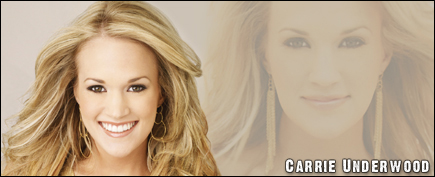 Carrie Underwood: 'Carnival Ride' – Album Review

Carrie Underwood's sophomore release, Carnival Ride, has a lot to live up to.  The 'American Idol' winner's debut album, Some Hearts, has sold over 6 million copies and spawned four straight number one singles.  The album and its singles have won Carrie numerous awards, including a Grammy for Best Country Song ("Jesus Take the Wheel") and an Academy of Country Music award for Album of the Year in 2007.  Carrie also took home the awards for Female Vocalist of the Year and Single of the Year ("Before He Cheats") at the CMA Awards earlier this month.  Anticipation for Carrie's follow up album was high.  And, Carrie Underwood came through in spades.



While Some Hearts had pop appeal to keep Carrie's 'American Idol' fan base interested, Carnival Ride is all country.  The album leads off with the gritty "Flat on the Floor."  Carrie growls her way through the song from beginning to end – giving women everywhere a song to crank up their stereos to.  This song could very well be the "Before He Cheats" of this album though "Last Name" challenges for that title.  "Last Name" is a tongue and cheek song about drinking too much tequila and finding yourself in Vegas, married –– a story reminiscent of Britney Spear's quickie Vegas marriage. "Last Name" is one of the four co-writes Carrie is credited with on this album.

Known for her big voice, Carrie displays her vocal range on "All-American Girl," – another song that she co-wrote for the album. The song shows a father and a new husband and father's infatuation with the all-American girls in their life. The chorus reads Now he's wrapped around her finger / She's the center of his whole world / And his heart belongs to that sweet little beautiful, wonderful, perfect all-American girl.  The song as a whole showcases Carrie's growing songwriting abilities.

Another Carrie co-write is "Crazy Dreams," a song that serves to remind listeners that Carrie too was a long shot at stardom before 'American Idol' and yet she made it. Carrie likens herself to Cinderella, saying I've felt like Cinderella at the ball just runnin' out of time / So I know how it feels to be afraid / To think that it's all gonna slip away / Hold on, hold on. This is the most personal of Carrie's co-writes as it chronicles her climb from nowhere Oklahoma to America's sweetheart.

Carnival Ride is loaded with big ballads and songs like "Just A Dream" (a song of a woman losing her lover to war) and the current single, "So Small," soar.  The remake of Randy Travis' hit "I Told You So" gives the song new life.  "I Know You Won't" is a heart-breaking ballad about a woman knowing the man she loves won't call despite his saying he will and her realizing that the relationship is over.  "The More Boys I Meet" is another tongue and cheek song – this one about meeting Mr. Wrong over and over and growing to like your dog more with each encounter.

Carrie Underwood has delivered in a big way. Carnival Ride debuted at the top of Billboard's Top 200 all-genre chart as well as the country album charts after moving a record-setting 527,101 copies.  Carrie ends any debate about whether or not she is a country singer with an album of songs ranging from gritty, southern-rock influenced tunes to the big ballads Carrie has become known for.  This album lives up to the hype surrounding its release.  It's a shame all sophomore albums can't be this good.