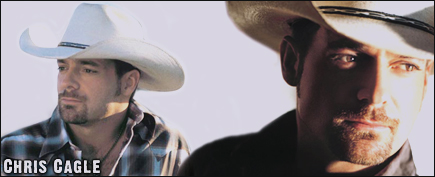 Chris Cagle: 'My Life's Been A Country Song' – Album Review

by Janelle Landauer

Chris Cagle's chart history over the years has included the hit singles "Miss Me Baby," "I Breathe in, I Breathe Out," "Laredo," "Chicks Dig It," and "What A Beautiful Day."  His first two albums went gold, selling over 500,000 units.  But, in 2005, Cagle was forced to deal with several personal problems that could have ended his music career all together.  He started have issues with his voice; His management changed; He and his girlfriend were having problems with their relationship; And, Cagle was drinking and smoking – both of which were making his vocal problems even worse.

After seeing a doctor for his vocal issues, Cagle had the choice to continue drinking and smoking – or to sing.  Cagle quit both so that he could sing.  During all of this, he took time to concentrate on getting better.  And, the tough times made his music even stronger.  Cagle released his fastest-selling project of his career, Anywhere But Here, in October 2005, and enjoyed Top 10 success with his hit, "Miss Me Baby." 

Chris Cagle made sort of another comeback this year with his latest single, "What Kinda Gone" from his new album, My Life's Been a Country Song.  "What Kinda Gone" was the lead single from the new album – and it helped put Cagle right back in the mix of the music business and on the charts again.

"What Kinda Gone" is an up-tempo written by Candy Cameron, Chip Davis and Dave Berg.  Berg has been on the charts many times in recent months – with Blake Shelton's "Don't Make Me," Keith Urban's "Stupid Boy," Emerson Drive's "Moments," and Rodney Atkins' "These Are My People" and "If You're Going Through Hell" and others.  "What Kinda Gone" is no exception to Berg's amazing songwriting abilities – and Chris Cagle delivers on this one, scoring a top 5 with the single.

My Life's Been a Country Song is Cagle's fourth studio album, and it features a few "power ballads" –- ("I Don't Wanna Live" and "Never Ever Gone") that are among the favorites on this album.  This latest project is easily the favorite album released so far by Cagle, and the "Cagleheads" (Chris Cagle's fans) must agree, as they pushed the album to debut at #1 on the Billboard Country Album charts.

Fans will definitely be able to relate to the lyrics found on the title track, "My Life's Been A Country Song."  This track is another one of the favorites – combining lines from some of country music's favorite songs of the past, with the modern-day sound of Cagle.  "Now I know how Paycheck felt when he told his boss, "Take this job and shove it… and I've had the girl who made me say, "I like it, I love it, I want some more of it.."  This is just a few of the lyrics which pay tribute to Johnny Paycheck's song "Take This Job and Shove It" and Tim McGraw's "I Like It, I Love It."  This is a country song through and through.  And, as the song says, "They can write it on my stone… my life's been a country song.."

Cagle's latest album is a pretty good release…  It definitely has the top favorites and then some that fall through the cracks, but overall, this is his best work to date.  Take a listen to "What Kinda Gone," "I Don't Wanna Live," "Never Ever Gone" and "My Life's Been a Country Song" for some real good country music songs.  With the release of "My Life's Been a Country Song" Cagle's fans have confirmed that he still indeed has a spot in country music.