CHRIS YOUNG

This year, we haven't mentioned much about the USA Network show,  Nashville Star. Over the past couple years, it just seemed like the winners were fading faster than they appeared.  (Brad Cotter, Erika Jo...)  With the fourth season this year, however, the competition was really not a competition at all.  From the first night on, it was obvious that Chris Young was "the one" to beat.

In recent seasons of Nashville Star, they have pumped out the singles and albums immediately following the show.  For once, RCA Records and Chris Young have done it the right way.  They have taken more time allowing the final product to showcase an album with quality songs, production and vocals - unlike previous seasons.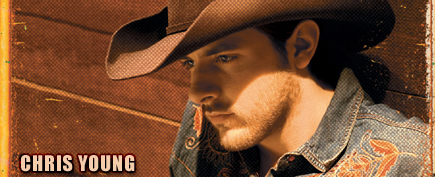 Added: September 15, 2006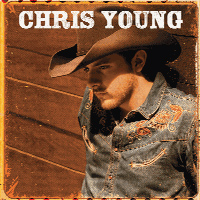 With the release of Chris Young's debut RCA Records album, you get 11 tracks including most notably, "Drinkin' Me Lonely" which he debuted on the Nashville Star show and then went on to perform on the Opry.  Young co-wrote this debut single with Larry Wayne Clark.  "Drinkin' Me Lonely" proves first and foremost that Young can really write, but it also shows that Young is a highly talented singer as well.

Several of the tracks on Young's debut are up-tempo but when he sings the ballads, he nails them.  Besides "Drinkin' Me Lonely,"  "Flowers" is the standout ballad.  There is so much emotion in his vocals and this song is really a tear-jerker.

Both "Burn" and "Center of My World" would be great singles for radio.  Anyone that has grown up in a small town will easily be able to relate to "Small Town, Big Time."  All three of those songs have great melodies and they are easily favorites from Young's self-titled release.

"I'm Headed Your Way Jose" is hilarious.  I wouldn't go as far as to say it'd be good for radio, but it is certainly one of those songs you have to listen to in order to get the full effect.  The chorus says: "You say 'Hola,' - I say 'Hi.'  When I pass you at the border, slap me a 'high five.'  You better pack a poncho 'cause it sure gets cold up here... Me, I'm heading south for hot women and cheap beer.  Here's the keys to my Chevrolet.  You can have the house and the bills I pay.  Welcome to good ol' USA.  And I'm heading your way, Jose." "White Lightning Hit The Family Tree" is also along the lines of "I'm Headed Your Way Jose" - in that they are both comedy driven story songs.

Generally speaking, Young has some vocal similarities to country legend - Keith Whitley.  But, Young does have a way of taking "traditional" music by standards and adding in some of today's country for his own distinctive approach at country music. It would have been nice to have a few more ballads mixed in with all the up-tempos, though Young is capable of singing either and bringing justice to all of them.  There is no doubt that Chris Young is the strongest "winner" of Nashville Star.  The show has finally brought out a real artist capable of having success in Nashville. - Janelle Landauer

Album picks:  "Drinkin' Me Lonely," "Burn," "Small Town - Big Time," "Flowers" and "Center of My World."

Produced By: Buddy Cannon -- Label: RCA Nashville

Release Date: Oct. 3, 2006

Beer or Gasoline

You're Gonna Love Me

Drinkin' Me Lonely

White Lightning Hit The Family Tree

Lay It On Me

Burn

Small Town Big Time

Flowers

Center Of My World

I'm Headed Your Way, Jose

Who's Gonna Take Me Home