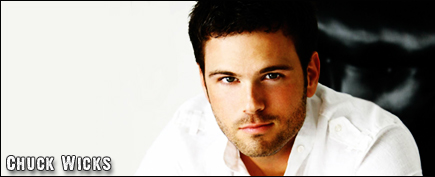 Chuck Wicks: 'Starting Now' – Album Review

Chuck Wicks has the stuff.  He is a talented songwriter, has great vocals, is easy on the eyes, has a recording contract with RCA, and he worked with producers Dann Huff and Monty Powell on his debut album, Starting Now.  Yet working with talented producers such as Dann and Monty (Dann produces for Rascal Flatts, Keith Urban, and LeAnn Rimes while Monty is responsible for penning some of Keith Urban's biggest hits) may be where Chuck has gone wrong.

Starting Now is not a bad album.  However it lacks in originality.  Chuck's personality does not shine


through thanks to over-produced songs tailor-made for radio.  At times, the music behind the lyrics distracts from Chuck's vocals, and the lyrics become lost in the guitars and drums backing them.  Despite penning 10 of the 11 songs on the album, there is no Chuck in this album, except for a handful of tracks where he is allowed to shine.

The album starts off with "All I Ever Wanted" – a song with catchy lyrics like twirling in a sundress, wearing my ring.  This song will probably be heard on your radios as it sounds like something Rascal Flatts would record.  The same can be said for "Good Time Comin' On" which is one of Chuck's finer efforts as a songwriter as he sings about his Dixie girl with a summer smile painting her toenails as they take a drive.

The top ten hit "Stealing Cinderella", Chuck's debut single, is a song Chuck was inspired to write by a real-life girlfriend who worked as Cinderella at Disney World.  He delivers a strong, heartfelt ballad about a man asking for his girlfriend's hand in marriage as he realizes that she will always be her daddy's little girl.  This song is close to Chuck's heart and the strong performance he gives on it proves this.

"When You're Single" is a favorite track of mine.  The song talks about how great it is being single – until you realize that all you really want is the love you had.  The song has an underlying R&B sound to it and Chuck's vocals are at their strongest.  Another song with the same soulful sound is "Mine All Mine" – a song about a man and a woman who lead busy lives but they take a night to devote themselves to one another. 

"Man of the House" is the album's tear-jerker.  While other artists sing about those actually fighting in war or their wives waiting at home, Chuck pens a song about a ten-year old boy who has become the man of the house while his father is a world away serving his county.  The song makes an emotional impact on the listener from start to finish.

Overall, Starting Now is full of smooth, ballad-type songs without many up tempo cuts that make the listener want to get up and dance.  "She's Gonna Hurt Somebody" is the exception as Chuck sings about a woman who's been jaded and sets out on a mission to find herself a one-night stand.  It is also the song that allows Chuck's fun personality to finally reveal itself.  As he shouts "Bad move!" it is obvious that he's having a good time with the song.  It leaves the listener wanting more of this type of song from Chuck.

Starting Now fails as a whole to establish Chuck as an artist. While it is loaded with well-written songs, the album has been produced in a way that will not set Chuck apart from many of the other artists trying to make a name for themselves in county music today. Chuck is talented and there are glimmers of that throughout the album – when the music is not overpowering the lyrics.  Buy Starting Now if you're a fan of  "Stealing Cinderella" or even of Rascal Flatts.  If you're looking for something different out of the country music genre however, this is not the album for you.