and the activities appeal to all ages - from children in the Family Zone to the party-hardy club hoppers during After Hours. And the opportunities to meet and interact with the artists, a hallmark of this event for the past 34 years, continue with numerous activities for every taste and interest, from archery to cooking."

With hundreds of artists expected to participate and more than 70 hours of concerts at venues centrally located in Downtown Nashville, CMA Music Festival is a four-day, non-stop celebration of America's music for people of all ages who love great songs, great artists and a great time.

Trace Adkins, Steve Azar, Dierks Bentley, Big & Rich, Brad Cotter, Cowboy Troy, Billy Currington, Josh Gracin, The Jenkins, Jo Dee Messina, Montgomery Gentry, Jon Randall, Rascal Flatts, LeAnn Rimes, Julie Roberts, Trick Pony, Keith Urban, Phil Vassar, Jimmy Wayne, Mark Wills, Gretchen Wilson, Darryl Worley And Michelle Wright To Appear

Four days, 30 hours of autograph signings, 70 hours of live music, more than 200 Country Music artists and celebrities, and more than 130,000 fans add up to one major musical event - 2005 CMA Music Festival "Country Music's Biggest PartyT," held Thursday through Sunday, June 9-12, in Downtown Nashville, Tenn.

"CMA Music Festival has become the must attend event for any Country Music enthusiast," said CMA Executive Director Ed Benson. "This is a party with something for everyone. The music spans the genre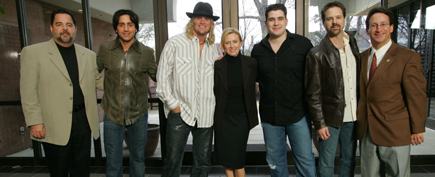 © The Country Music Association announces the first slate of artists appearing at CMA Music Festival, "Country Music's Biggest Party(tm)," Thursday through Sunday, June 9-12 in Downtown Nashville. (l-r) CMA Music Festival Executive Producer Tony Conway; Mercury Records Nashville artist Steve Azar; Ira Dean of Curb Records artist Trick Pony; CMA Associate Executive Director Tammy Genovese; Lyric Street Records artist Josh Gracin; Epic records artist Jon Randall; and Nashville Chamber of Commerce President Mike Neal.

Photo: John Russell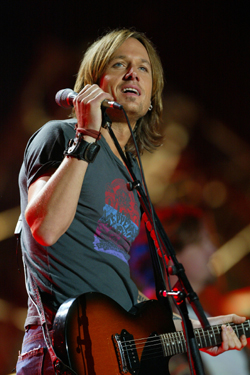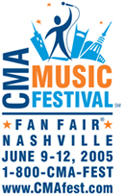 CMA Announces First Round of Artists Appearing At 2005 CMA Music Festival

By Wendy Pearl

Keith Urban will perform at the 2005 CMA Music Festival, "Country Music's Biggest PartyT" in Downtown Nashville, June 9-12, 2005. Urban is pictured performing at the 2004 CMA Music Festival.

Photo: John Russell

Dubbed the "crown jewel" of Country Music festivals by USA Today, CMA Music Festival builds on the reputation of Fan Fair®, which was created exclusively for the fans in 1972. And 34 years later, the unique relationship between Country Music artists and their admirers remains at the heart of CMA Music Festival. Each June, the artists take time out of their busy touring schedules to play for free, meet fans, sign autographs and pose for photos, to give back to the people and community that have supported them throughout the year. 

"We are thrilled to continue our message of 'Country Music Without Prejudice' with our first appearance at the CMA Music Festival," said Big Kenny and John Rich of Big & Rich. "We are also excited that our first Raybaw Records artist, Cowboy Troy, will be a part of the show."

"There's no place to have a better time than at the CMA Music Festival," said LeAnn Rimes. "I get to spend personal time with my fans, who I love, plus hear some of the greatest music in the world. It's Country Music's most exciting week of the year."

"It is always a privilege to have the opportunity to perform for so many enthusiastic Country Music fans all gathered in one place," said Heidi Newfield Johnson of Trick Pony. "We know that the 2005 CMA Music Festival will be the best ever and we can't wait!"

"CMA Music Festival is such a great event to be involved with," said Phil Vassar. "We have the best fans in the world and to have them all in one place and fee the energy and excitement is pretty amazing. I'm proud to be participating again this year."

"Growing up, I always dreamed of performing in front of the fans that visited Nashville during Fan Fair," said Brad Cotter. "Last year, after winning ' Nashville Star,' I met the most amazing people from part of the country I've never even visited, and it really showed me the impact Country Music has on their lives. I feel fortunate to be a part of the renowned event, even though I'm a fan of a lot of the artists."

"The thing I love most about CMA Music Festival are all the interesting people I get to meet," said Jon Randall. "Everyone already knows what I do for a living so it's interesting for me to find out what the fans do."

Also appearing are Trace Adkins, Steve Azar, Dierks Bentley, Brad Cotter, Billy Currington, Josh Gracin, The Jenkins, Jo Dee Messina, Montgomery Gentry, Rascal Flatts, Julie Roberts, Keith Urban, Jimmy Wayne, Mark Wills, Gretchen Wilson, Darryl Worley and Michelle Wright with more artists to be added.

CMA Music Festival has a lot to offer including nightly, star-packed concerts at The Coliseum with state-of-the-art production, two huge stages for continuous entertainment, the popular CMA Music Festival Photo Line and giant video screens capturing all of the excitement.

In addition to the nightly concerts, you'll find daily, non-stop music at the Greased Lightning® Daytime Stages with an eclectic lineup of artists performing on dual stages, including Country hit-makers, rising stars, legends, stellar bluegrass performers and surprise guests. Artists will perform from 10:00 AM to 6:00 PM Thursday through Saturday, June 9-11, and 10:30 AM to 6 PM Sunday, June 12.

"We have attended twice - in 2001 and 2002 - and came with two of our children. It is what you want it to be. Music can be heard all day long [Downtown] and at the stadium at night. Walking through Nashville, seeing the sights and watching your children take it all in and appreciate the music makes the trip worthwhile," said Terry Maske of Oak Forest, Ill.

Gretchen Wilson will perform at the 2005 CMA Music Festival, "Country Music's Biggest PartyT" in Downtown Nashville, June 9-12, 2005. Wilson is pictured performing at the 2004 CMA Music Festival.

Photo: John Russell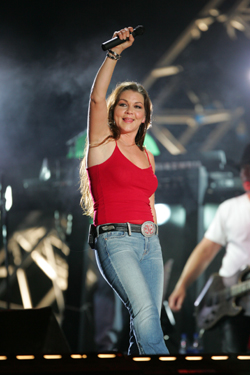 But, CMA Music Festival isn't just about seeing artists in concert. The event offers numerous opportunities for fans to interact and see their favorite stars in unique settings, whether it's getting an autograph in the Wrangler® Fan Fair (Exhibit Hall) at the Nashville Convention Center; asking questions during the CMA Celebrity Close Up series; or standing clear as the artists fire arrows at targets during the "Fourth Annual Andy Griggs Celebrity Archery Tournament."

Back for a second year in 2005, the Sports Zone will be held on the grounds at The Coliseum. Free of charge and open to all sports and Country Music enthusiasts from 3:00-7:00 PM, Thursday and Friday, June 9-10, and 2:00-7:00 PM Saturday and Sunday, June 11-12.

The Sports Zone is also the hot spot for free concerts prior to the nightly Coliseum shows. The Sports Zone offers fans the opportunity to participate in sports activities plus see some of their favorite artists and professional athletes go head-to-head in friendly competitions.

A strong relationship exists between sports personalities and Country artists, and it is a proven winner with fans, too. In 2004, the Sports Zone featured appearances by top BASS anglers, NASCAR drivers, professional wrestlers, hockey and football stars.

"These competitions were a huge hit with fans last year and a great example of what the Sports Zone concept has to offer," Benson said. "The artists enjoy participating because it's fun and gives them an opportunity to flex their competitive muscles and the fans enjoy seeing them in a non-traditional setting."

Personal interaction remains a cornerstone of CMA Music Festival and the Exhibit Hall at the Nashville Convention Center, proudly carrying the Fan Fair® name and sponsored by Wrangler®, is the epicenter of the fan/artist bonding experience. Country legends, newcomers and other celebrities meet fans, sign autographs and pose for photos. For many fans, this is a once-in-a-lifetime moment to make a personal connection with someone they admire. For others, it is an opportunity to establish an early bond with a new artist on their way to stardom.

"The autograph sessions at the Exhibit Hall were unbelievable. Who would have thought that so many of the artists would actually make themselves available to sign so many autographs and pose for pictures? It truly is all about the artists and their fans," said Elizabeth Mauck of New Port Richey, Fla.

Added to Wrangler® Fan Fair in 2004 and returning in 2005 is the Acoustic Corner, a totally acoustic performance area, which offers new artists another place to showcase their talent.

For a deeper look into the lives of some of our musical heroes and their road to stardom, there is the CMA Celebrity Close Up, with two question-and-answer sessions Thursday, June 9, and Friday, June 10, from 4:30 to 6:00 PM, hosted by media personality Lorianne Crook at the historic Ryman Auditorium. CMA Celebrity Close Up gives fans an opportunity to submit questions for celebrity panels moderated by Crook. In 2004, participants included Trace Adkins, Kix Brooks, LeAnn Rimes, "JAG" actress Karri Turner, Darryl Worley, Mark Wills and more. The lineup for 2005 will be announced soon. A separate ticket is required. Call 1-800-CMA-FEST (262-3378) for advance, reserved-seating tickets at $10 ($15 at the door).

CMA Celebrity Close Up "was an absolutely wonderful time," said Terry Parrish of Taneytown, Md. "The ticket prices were great and affordable for all. It is so nice to see a different side of the artist. A very relaxed setting, joking, laughing and telling stories you would not normally get to hear during a concert. I would definitely recommend this type of show to others. It was GREAT."

Obviously, Country artists aren't the only ones making appearances at CMA Music Festival. The event has a long history of attracting artists and celebrities outside of the format such as Bryan Adams, the Beach Boys, Paul McCartney and actors Danny Glover, Maureen McCormick, Verne Troyer and more. In 2004, the list of multi-faceted collaborations continued with Poison's Bret Michaels joining Chris Cagle for a performance and Uncle Kracker performing with Rachel Procter during The Coliseum shows.

Of all the celebrities who donate their time to the event, the stars of NBC Daytime dramas "Days of our Lives" and "Passions" are among the most popular. And they are back in 2005 for the fifth consecutive year to participate in a variety of CMA Music Festival activities, from signing autographs at Wrangler® Fan Fair, to introducing concert performers and hosting the fifth annual "NBC Daytime After HoursT Party," with skits and musical performances at the Wildhorse Saloon, Saturday, June 11 at 11:00 PM (separate ticket required). For information and tickets, call the Wildhorse Saloon (615) 902-8200 or www.wildhorsesaloon.com

The NBC Daytime event is just one of the many, late-night activities as part of CMA Music Festival After HoursT - because the party doesn't stop after closing fireworks at The Coliseum. A wide assortment of clubs and bars in Downtown Nashville keep the party rolling until the wee hours with exclusive specials and entertainment for Festivalgoers.

If you're looking for the perfect place to take the entire family, CMA Music Festival offers the Bush's® Baked Beans Family Zone, with special appearances by famous baked beans spokesduo Jay Bush and his dog Duke and free activities for all ages (11:00 AM to 4:00 PM daily). It's the place for children and adults to kick back and have fun with games, hands-on educational exhibits, storytelling with Country artists and more. In fact, CMA Music Festival is very family friendly with discounts for fans 14 and younger, and as always, children 3 and younger are admitted free - making it an attractive family vacation value

"The family zone was fun, and my husband just fell in love with Duke (The Bush Family dog). In fact, one day we followed him around so my husband could meet him. Little things like this really make a trip fun," said Barbara Metcalfe of New Hampshire.

New in 2005 will be the Crisco® Country Favorites Corner, with celebrity chefs and cooking demonstrations.

And renamed the Fun Zone in 2005, the area of Broadway between First and Second Avenues in Downtown Nashville will once again bustle with activities for fans of all ages. The Fun Zone features "Lawry's® Live," a TV-styled grilling show, plus other Lawry's activities including product sampling. The Fun Zone is free and open to the public daily from 10:00 AM to 5:00 PM.

Four-day ticket packages are on sale now and are easy to purchase. Order over the phone by calling toll-free, 1-800-CMA-FEST (262-3378); visit www.CMAfest.com to download an order form to fax or mail; visit www.Ticketmaster.com to buy online or charge-by-phone at (615) 255-9600.

And the best part is that CMA Music Festival tickets support charity with the "Cause For Celebration!" charitable benefit program. Each year, CMA donates half the net proceeds from the event to worthy causes selected by the participating artists who donate their time. Since the program began in 2001, CMA has donated $400,000 to charities supported by the artists. 

2005 CMA Music Festival is organized and produced by the Country Music Association. CMA Board member Tony Conway is the Executive Producer of CMA Music Festival. MJI Programming, a division of Premiere Radio Networks, is the official radio broadcaster. Promotional partners include Bush's® Baked Beans, Crisco®, Greased Lightning®, NBC Daytime and Wrangler®. Fan Fair is a registered trademark of CMA.