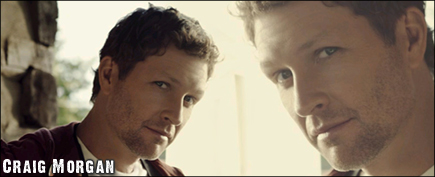 or the other better, but Morgan really blows everyone away no matter what he's singing.  "Tough" is an inspiring ballad and one of the highlights from Little Bit of Life.  "Tough" was also recently released to radio as his new single.

Morgan has a few up-tempo tracks on this album that are hilarious.  "I Guess You Had To Be There" talks about a guy going to the hardware store and having a lady there who is really into him, even at times forgetting that they're in the store.  The comedic side of Morgan's music is often present on his albums and it's one of the reasons why his music and CD's turn out so good.

Another one of his comedy-driven songs is one called "International Harvester," written by Shane Minor, Danny Myrick and Jeffrey Steele.  The folks that live in the country will love this one.  Some lyrics from the song include: "I'm a God fearin', hard workin' combine driver, hoggin' up the road on my p-p-p-p-plower, chug a lug a luggin' 5 miles an hour... on my International Harvester."  This song is purely fun and Morgan pulls it off well.

Morgan didn't write as many songs on this album as he has on his past albums - I Love It or My Kind of Livin' but he chose the right songs...  songs that were perfect for his range, music style and for radio.  Morgan continues to grow with each album release showcasing his amazing vocals and quality songs.  Little Bit of Life is Morgan's best release to date and is well-rounded from start to finish. Form the serious ballads like "Tough" - to the light-hearted up-tempo songs like "I Am" and "I Guess you Had to Be There."  Morgan is prevailing once again with another outstanding release.

Produced by Craig Morgan, Phil O'Donnell & Keith Stegall

Craig Morgan - Little Bit of Life Review

- by Janelle Landauer

Craig Morgan's latest project, Little Bit of Life, was released on October 31, 2006.  Little Bit of Life is the follow-up to his highly successful 2005 album, My Kind of Livin' which included the hits "That's What I Love About Sunday," "I Got You," and "Redneck Yacht Club."

The title track, "Little Bit of Life" was also Morgan's first single release from this album.  "Little Bit of Life" is a fun up-tempo song and a great way to debut his new music.  I admire the fact that Morgan can switch between the up-tempos and ballads so well.  Some artists seem to struggle - singing one

Little Bit of Life

International Harvester

Tough

I Am

The Ballad Of Mr. Jenkins

Nothin' Goin' Wrong Around Here

Sweet Old Fashion Goodness

I Guess You Had To Be There

The Song

My Kind of Woman

Look At 'Em Fly

Produced by Craig Morgan, Phil O'Donnell & Keith Stegall