Cracker Barrel -The Restaurant Unveils New Music Once Again With More on the Way

By Janelle Landauer

Cracker Barrel Old Country Store [or often referred to as just "Cracker Barrel"] formed a unique partnership with the country music industry in 2003.  The highly popular restaurant chain started releasing exclusive albums by country music artists which have featured: Alison Krauss & Union Station, The Charlie Daniels Band, Sara Evans, Merle Haggard, and most recently Josh Turner.  Cracker Barrel has 560 stores located in 41 states where they sell the CD's exclusively, but fans can also purchase the CD's online at Cracker Barrel's official website (
www.crackerbarrel.com
) if they prefer.
Cracker Barrel has also released many CD's with a variety of different artists contributing on them.  One of their most notable collections was their "Songs Of The Year" album which highlighted some of today's hottest artists singing award-winning songs throughout the years.  Some of the artists who took part in the "Songs Of The Year" CD included George Jones, Dierks Bentley, Trace Adkins, Trisha Yearwood, Lonestar and more.  Great American Country (GAC) also spotlighted the "Songs Of The Year" project with a concert special which included live versions of several of the songs that the artists covered for the CD.

Introduction

Way Down South

What It Ain't

She'll Go On You

Lord Have Mercy On A Country Boy

Silver Wings

Backwoods Boy

Angels Fall Somtimes

Loretta Lynn's Lincoln

I'll Never Get Out Of This World Alive

Band Intro

Gravity

He Stopped Loving Her Today

Long Black Train

01

02

03

04

05

06

07

08

09

10

11

12

13

14

JOSH TURNER - Live At The Ryman

Track Listing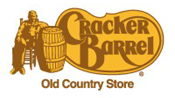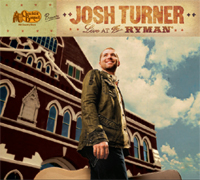 Josh Turner's third album release comes exclusively from Cracker Barrel.  Turner's first two studio albums have been extremely successful on the charts and with the fans.  Turner's debut, "Long Black Train" was released in 2003 and has been certified platinum.  The 2006 sophomore follow-up release from Turner, "Your Man," debuted atop the Billboard Top Country Albums chart and has since been certified double platinum.  For this album, Turner steps out of the studio and takes the stage recording the album live at the historic Ryman Auditorium in Nashville, Tennessee.  Turner and his band played for a sold-out crowd on April 19 which marked Turner's first full-length concert at the Ryman.  Live At The Ryman was released on July 3 to all Cracker Barrel stores and to their online website.

At the Ryman, Turner performed a few of his most popular hits including "What It Ain't," "She'll Go On You," and the fan favorite "Long Black Train."  But, Live At The Ryman also

introduces fans to a few new cover songs of some of the most respected classics in country music.  Turner performed the George Jones' hit "He Stopped Loving Her Today," Merle Haggard's "Silver Wings," Don Williams' "Lord Have Mercy on A Country Boy" plus Hank Williams' "I'll Never Get Out Of This World Alive."  Live At The Ryman is another standout album by Turner and his fans are sure to enjoy this one.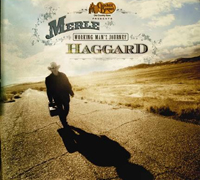 Country legend Merle Haggard recently released his Cracker Barrel exclusive project as well entitled: Working Man's Journey.  Haggard has had an unbelievable career which has spanned over 40 years where he racked up 40 #1 hit singles.  Working Man's Journey features 6 previously unreleased renditions of 6 classic songs plus he also brings out an additional 6 new songs.  The "Hag" is sounding as good as ever bringing both old and new ballads to his fans - all the while still staying true to his blue-collar ways with songs that everyone is used to hearing from him.  Favorites from Haggard and this project include "C'mon Sixty-five," "Are The Good Times Really Over," and "If We Make It Through December."

Cracker Barrel's next release in country music will be a live album by Alabama.  The album has yet to be titled and the release date has yet to be announced, but fans can expect the

album to hit their stores later this year.  The live album by Alabama will also be another highly anticipated release from both the band and the restaurant.  Cracker Barrel's specialty might be their food -- but they are also doing an exceptional job when it comes to giving country music fans exclusive music by some of the best artists in the country music community.

Shade Tree Fix-It Man

C'mon Sixty-Five

Workin' Man Blues

Kern River

Like A Train Left The Tramp

Are The Good Times Really Over

Poor Boy Mansion

Rainbow Stew

In The Mountains To Forget

If We Make It Through December

Stormy New Orleans

Songman

MERLE HAGGARD - Workin' Man's Journey

Track Listing