Country Music DJ and Radio Hall of Fame Welcome Five

By Edward Morris

© 2006 CMA Close Up News Service / Country Music Association, Inc.

Country Radio Broadcasters welcomed Terry Dorsey, Lon Helton and Arch Yancey into its Country Music DJ Hall of Fame and Jonathan Fricke and Ed Salamon into the Country Radio Hall of Fame in ceremonies held at the Nashville Convention Center on Feb. 14.  The induction was the opening event of CRB's 37th Annual Country Radio Seminar.

During the festivities, CRB also presented Jack Lameier with the President's Award and Ronnie Milsap with the Career Achievement Award, an honor bestowed in years past to Alabama, Sonny James, Reba McEntire and Dolly Parton.

Dorsey, who captains the "Dorsey Gang Morning Show" at KSCS/Dallas, had spent 10 years in Top 40 radio when WONE/Dayton, Ohio, lured him to the Country format in 1977. In 1982, Dorsey took the morning slot at powerhouse KPLX/Dallas. There he built ratings - and a massive personal following - which culminated in his winning the CMA's Major Market Broadcast Personality of the Year Award in 1986. Two years later, Dorsey jumped to KSCS. Of the many charity events in which he's involved, he counts the annual Lone Star Santa toy drive as his favorite.

Dorsey told the crowd of well-wishers that a young assistant at a small station first taught him about the intimacy and immediacy of radio. One evening, he explained, he momentarily left the assistant in charge so he could run out and pick them up some food. The assistant said he'd take a hamburger. "Do you want fries, too?" Dorsey asked. "No," said the youngster. Dorsey dashed out to his car and switched on the radio just in time to hear his assistant open the mic and announce, "Terry, I will take some fries."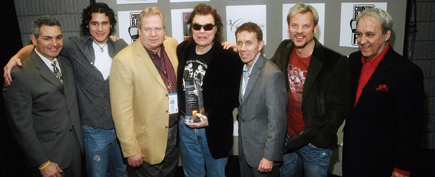 © RCA Label Group executives congratulate Ronnie Milsap on his Career Achievement Award at the Nashville Convention Center in Nashville, Tenn. (l-r) R.J. Curtis, President, CRB, Inc.; Joe Nichols; Mike Wilson, Vice President of Promotion, RCA Records; Ronnie Milsap; Joe Galante, Chairman, RCA Label Group; Phil Vassar; and Charlie Monk, Board of Directors, CRB, Inc. Photographer: Karen Will Rogers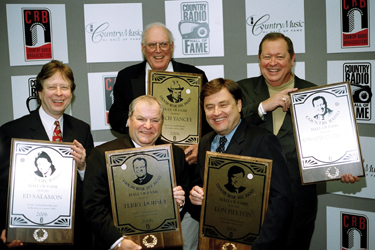 In his acceptance speech, Fricke noted that he once worked for a station whose budget was so small that "the news department was a newspaper." On the first day of his first job, he continued, he had to announce that President Kennedy had just been shot.

Fricke was active in radio as an air personality and manager from 1963 to 1981. During that time, he switched WMC/Memphis, Tenn., and WSAI/Cincinnati to Country formats. He also worked at Texas stations KDJW/Amarillo, KBUY/Fort Worth and KOKE/Austin plus California stations KFOX/Los Angeles and KRAK/Sacramento. In the 1980s, Fricke established Tune-In, a monthly Country Music fan magazine promoted and distributed through stations. For 12 years, he has served on the CRS agenda committee, has been active in music publishing and is the founder of Radio Against Drugs In Our Society. 

"It takes a family to raise a disc jockey," Helton cracked, as he saluted an array of people who'd given him support and encouragement. His parents were both musicians, he said. "They loved Country Music and I didn't." Helton took his first radio post in 1971 at WVPC/Monmouth, Ill. The station's motto was "The Voice of Prime Beef." He then trekked on to outposts in Galesburg, Ill., and Denver before returning to his native state in 1975 to spin records for WMAQ/Chicago. This became his entry to Country Music. Helton recalled that the first Country song he played on air was Red Simpson's "I'm A Truck." One of his great joys, he revealed, was that his father was able to hear him play his favorite kind of music on the radio before he died.

After brief stops at other stations in Chicago and Los Angeles, Helton segued into radio syndication and trade publishing. He has spent the past 23 years as a writer and bureau chief for Radio & Records. Since 1992, he has hosted Westwood One's "Country Countdown USA." Helton is both past-President and past-Chairman of the CMA Board.  In 2002 and 2004, he won CMA National Broadcast Personality of the Year Awards.

Salamon launched his career in Country radio in 1973 at WEEP/Pittsburgh. There he pioneered the use of such now common data-gathering techniques as call-out research and focus groups. From 1975 to 1981, he was PD for WHN/New York, the most listened to Country station of its time. After leaving that position, he co-founded United Stations Radio Network with Dick Clark and Nick Verbitsky. When that company was consolidated into Westwood One Radio Network, Salamon was named President of Programming. Since 2002, he has toiled as CRB Executive Director. 

"You can't get extraordinary results by doing ordinary things," Salamon reminded the audience as he recounted his successes. Then, switching from the reflective to the comic, he concluded by observing, "You get to choose the picture (of yourself) that they put on your (Hall of Fame) plaque. I chose the young Ed instead of the old Ed in order to be the only mullet represented."

Among Yancey's many distinctions was having the foresight to book a young and still untested George Strait into the Houston Livestock Show & Rodeo in the early 1980s. The veteran broadcaster embarked on his radio odyssey in 1955 at tiny WBIP/Booneville, Miss. The voyage then took him to KAGH/Crossett, Ark.; WKDL/Clarksdale, Miss.; WHHM/Memphis; and WLCS/Baton Rouge.  Between 1958 and 1989, he became one of the top DJs in the Houston area via stints at KNUZ, KIKK and KILT. Subsequently, he became part owner of a station in Cordell, Okla.

"I'm not in radio anymore," Yancey confessed. "I wish I were, but it would interfere with the golf."

CRB also honored long-time record promoter Jack Lameier with its President's Award.  Lameier, who served on the CRB board for 12 years, began his career in music as a regional promoter based in the Cincinnati office of Columbia Records, where he spent 40 years promoting singles from legends including Johnny Cash, Ray Charles, Charlie Daniels, Merle Haggard, George Jones, Willie Nelson and Tammy Wynette. For the last 24 years Lameier worked at the Sony Music offices in Nashville until he retired from the company and started his own firm, Jack's Place Consulting.

To celebrate Ronnie Milsap's career - including 40 No. 1 singles - Joe Nichols and Phil Vassar performed a small sampling of his classics including "(I'm A) Stand By My Woman Man," "It Was Almost Like A Song,"  "Pure Love," "Stranger In My House" and "(There's) No Gettin' Over Me." 

Milsap was ecstatic to be in the company of so many radio people, many of whom he knew well.  "Radio - all my life - has been magic to me," he said. "All the kinds of music I've absorbed in my life came from radio." Milsap has re-signed with RCA Records and is recording the album with producer Keith Stegall.                 

The 2006 Country Music DJ Hall of Fame inductees gather backstage at the Nashville Convention Center in Nashville, Tenn. (l-r) (front) Ed Salamon; Terry Dorsey; Lon Helton; (back) Arch Yancey; and Jonathan Fricke.

Photographer: Karen Will Rogers