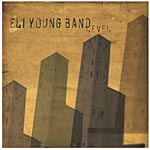 Eli Young Band

Level

The Eli Young Band consists of Mike Eli from Houston, Texas and James Young from Irving, Texas.  Drummer Chris Thompson from Colleyville, Texas and bassist Jon Jones from Omaha, Nebraska later joined Eli and Young to complete The Eli Young Band.  The members of the band met while attending the University of North Texas and have continued their music career based in Texas.  Several great country artists hail from Texas.  Pat Green and Miranda Lambert would be the most notable to the "edgy" side of country music.  I mention Texas and Green/Lambert because they seem to show their

pride for Texas and the more rock-and-roll driven influence.  The members of the Eli Young Band seem to possess this same characteristic in their music.

"Level" by the Eli Young Band is probably the biggest shocker in the two year existence of Country Music Online.  You may wonder why this album is such a shocker but not even knowing one thing about the Eli Young Band and finding such an impressive album says it all.  It's not very often that artists are able to capture a variety of different genres in their sound and style, but the Eli Young Band easily displays their own twist of country and rock. 

"Level" starts off with "Small Town Kid."  "Small Town Kid" first stuck out as the potential single, but this album only got better as it continued on.  On "When It Rains," you can tell how unique this band truly is, vocally.  The Eli Young Band would not be classified in any specific genre of music.  They are not just "country" as they have a strong portion of alternative rock influence which you can see in several of their singles.

"Everything Is You" is especially a well-rounded single with a great amount of potential.  "Everything Is You" could be very successful on not only the country charts, but on the pop and Rock charts as well.

Being able to relate to songs is so important to fans.  The fans are the whole source for the success or failures of an artist.  The Eli Young Band brings out songs that are relatable.  "Small Town Kid" and even "So Close Now" express how many small town kids really feel.  They want to leave as soon as they graduate.  The atmosphere of small towns leaves many tribulations for kids to overcome.  Other songs deal with relationships and as every album must have - the other side of the relationship - the breakups and loneliness.  "Everything Is You" and "That's The Way" represents the normal problems at the end of a relationship.  Although at the time it may not seem like the best thing to end a relationship, "that's the way" it has to be.  "That's The Way" is also the band's new single which hit radios nationwide on August 1st.  The Eli Young Band captures every emotion possible which makes "Level" such an easy album to relate to.

The Eli Young Band is very involved in the songwriting aspect of their music, also.  The Eli Young Band wrote all of the material on "Level" which just adds to the endless abilities of this band.  "Level" pushes up a level from the typical "ok" album bringing about versatility well worth experiencing. - Janelle Landauer

Album picks: "Small Town Kid," "When It Rains," "So Close Now," "That's The Way," "Oklahoma Girl," and "Everything Is You."