Even with Fame and Riches, Wilson Says She's Still a "Redneck Woman''

By Amy Green

It is the first week of January, and Gretchen Wilson has taken down her Christmas lights.

But that doesn't mean Wilson no longer is the "Redneck Woman" she proclaimed to be on her triple-Platinum debut album that has set records for its meteoritic rise in the charts. It means only, she said, that she is remodeling her suburban Nashville, Tenn. home.

Wilson has built her career on being herself - with her autobiographical song material and stripped-down image - and she is not about to change now that she is a star. Not only does she still shop at Wal-Mart and dine at McDonald's, but said she has begun work on a new album that will be the same kind of no-frills Country that made her first one such a standout.

"I could go back home to Big O's and jump behind the bar and just stay there all night with everybody, and I'd feel right at home," Wilson, 31, said of the rough hometown bar where she sang and served drinks as a teen.

Instead, Wilson opened this year's Super Bowl, seen in 250 countries, with her album's title song, "Here for the Party." She headlined a tour with Big & Rich in November and December and will tour with Kenny Chesney beginning in March. On Sunday she was in Los Angeles for the Grammy Awards where she was nominated for Best New Artist; Best Country Album of the Year; Best Song, Country ("Redneck Woman"); and Best Female Country Vocal Performance ("Redneck Woman"), for which she took home the award.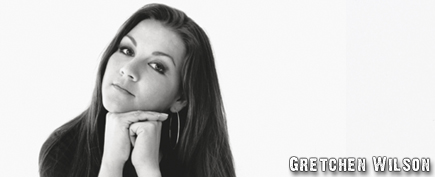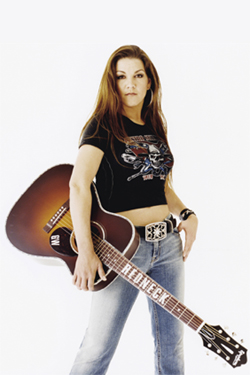 In late February, she will tour Australia, and she plans to co-produce her new album with Mark Wright and John Rich of Big & Rich, who produced her debut. The album's release date hasn't been set. Wilson is also scheduled to appear during the 2005 CMA Music Festival in Downtown Nashville, Thursday through Sunday, June 9-12. For more information and to purchase tickets visit www.CMAfest.com.

But Wilson is eager for a change in pace. After a year that started with performances in Wal-Mart parking lots and ended with the CMA Horizon Award for best new artist and major Grammy success, Wilson says she is looking forward to more time at home with Grace, her 4-year-old daughter with her longtime boyfriend, a Nashville nightclub owner.

The home, which Wilson bought not long after her album was released last May, is her first that is not rented.

"It is a relief to no longer live paycheck-to-paycheck," she said. "I think the main thing that's changed, I feel like a big burden of big worry has been lifted. I don't think people realize how much stress that adds to your life.''

The daughter of a teenage single mom, Wilson grew up in tiny Pocahontas, Ill., moving from trailer to trailer every time money ran out. She dropped out of school when she was 14 to tend bar with her mom at Big O's. Eventually she began singing there for tips. She moved to Nashville in 1996 but was rejected by the record labels until Rich visited the downtown bar where she served drinks and

heard her sing with the house band. Rich mentored her, co-produced her album and helped her write many of the album's songs.

Here for the Party went double-Platinum in nine weeks, the fastest for any debut Country artist. It went triple-Platinum in November. It also was the first by a debut artist to enter the Billboard Country albums chart at No. 1 and The Billboard Top 200 chart at No. 2. The album's breakout track, "Redneck Woman," in which Wilson sings of keeping her Christmas lights "on my front porch all year long," had the longest stay at No. 1 for a debut female Country artist since 1964.

"When she exploded, when she rose to the top we had to do that, too,"  said Lisa D'Addario, Wilson's personal assistant and tour manager. "We just had to rise to the occasion or we would be gone."

Wilson's team pulled together to face the instant fame, all pitching in on such mundane tasks as looking after pets when travel and performance schedules got hectic.

"When the team had to scramble to prepare for Wilson's tour with Big & Rich in eight weeks, we saved time and money utilizing the in-house resources of Morris Leasing allowing us to pull the tour together in a fast and efficient manner," said David Haskell, Wilson's tour manager. The team worked to let Wilson make the final decisions but had her confidence to make some calls when a situation merited it. Wilson said she needed guidance on her contracts and other business decisions.

"When you grow up singing in bar bands you can't imagine people having conference calls from New York to L.A. to Nashville all about you," she said. "It helps an artist to really trust her management. Even a seasoned artist ... can make some big mistakes."

She said she has kept grounded by making time at home with her daughter, running the vacuum and doing laundry. She no longer can do her own shopping at Wal-Mart but still sends someone there with a list of the groceries and household supplies she needs. When she can, she shops in the middle of the night and buys clothes there. When she can't be at home she travels with her daughter, boyfriend and other family members. She is good at locating the nearest McDonald's no matter where in the world she is, said Marc Oswald, her manager.

"She hasn't changed at all," Oswald said. "I see her becoming more sophisticated because she has to deal with so many things now, but she was always really smart." 

Wilson said she is not intimidated by the idea of maintaining her success through the coming year, but she does not take it for granted. She is working hard to write the same sort of no-nonsense songs that made her stand out among Country's more glamorous female artists, including Faith Hill, and she hopes to make an even bigger impact now as the second performer on Chesney's tour roster, which also includes Uncle Kracker and other artists.

She is looking forward to being part of a new record label put together by the Muzik Mafia, the group of Nashville musicians she still gathers with when she can to write songs and perform. She eventually hopes to mentor other musicians the way Rich mentored her.

How does she envision herself in the years to come?

"Still pacing the floor, talking to someone on the phone about my career and making records," she said. "You try to take that dream as far as it will get you. I want to do it all. I've only begun to scratch the surface of what I can accomplish in this industry.''

© 2005 CMA Close Up News Service