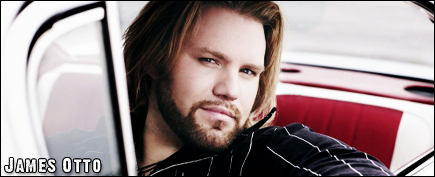 James Otto: 'Sunset Man' – Album Review

John Rich refers to James Otto as the 'biggest voice in country music' and after listening to his debut album on repeat for days on end, it's no wonder James has been crowned with this title.  James calls his style of music 'country soul' and from the opening "Ain't Gonna Stop" to the sultry "Man That I Am", Sunset Man is packed with one soulful country song after another as well as some of the best vocal performances in country music.

"Ain't Gonna Stop" opens the album with a rock edge as James belts out lyrics about how he is


literally not going to stop until he reaches the top.  It's an appropriate song for James as his career picks up steam with the release of Sunset Man after years of chasing his dreams.  The R&B tinged  "Just Got Started Loving You", a top ten hit, follows it and two songs into the album, the listener is already hooked.

A personal favorite from Sunset Man is "For You".  The song surprises the listener as it begins with James singing about how he'd do anything for the woman that he loves.  Just as the listener is pegging this song to be a typical country love song, James turns the tide and the song becomes a heartbreaking ballad about how having to move on at the end of the relationship is the one thing he can't do for his lover.  James delivers a vocal performance on this song that is so strong and pure that it would cause Simon Cowell of "American Idol" to give him a standing ovation.

"Where Angels Hang Around" is sure to leave the listener in tears.  Anyone who holds children near to their heart and believes St. Jude's Children's Hospital is truly a place of miracles on earth will surely be affected by this ballad – a song about a father driving his child to St. Jude's for treatment, to a place for children / Where God sends his mercy raining down / In the heart of Memphis / Where angels hang around.

"When A Woman's Not Watching" is a smooth ballad about what a man does when his wife isn't around.  One man slips off his wedding ring and makes a pass at the blonde in the window seat of an airplane while another married man three rows back wears his wedding band and brushes off a woman coming on to him.  The song's message is reveled in the line You'll see the man he is when a woman's not watching.

Any good country album is going to have a rowdy song that can be blasted from the speakers at a honky tonk on a Saturday night.  On Sunset Man that song is the fun "Drink & Dial".  A few drinks lead to a few impromptu phone calls that the dialer will regret in the morning – unless a friend intervenes as Friends don't let their friends drink and dial.

James Otto has delivered an album that will firmly cement his name in country music.  Sunset Man was produced by James along with John Rich and Jay DeMarcus of Rascal Flatts – both who know good music and how to make it.  James also co-wrote all but two songs on the album, showcasing his talents as a songwriter.  Everything has fallen into place for James Otto with Sunset Man.  This is an album you'll want to add to your collection.