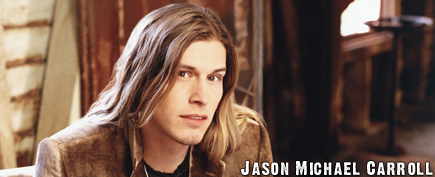 New Artist Feature:  Jason Michael Carroll

Jason Michael Carroll - Waitin' In The Country Review

- by Janelle Landauer

"Jason Michael Carroll doesn't look like he sounds  and that intrigue only heightens both realities of the

twangy vocalist from North Carolina."

That surely is the case - as his biography points out.  Jason Michael Carroll doesn't look anything like he sounds.  Carroll has this unbelievable range and I'm not sure there are many that could seriously pull it off.  Carroll displays this rough image with long hair - almost a bit more like a rocker than a country star in the making.  Sure, this rough rocker image suits him perfectly on songs like "I Can Sleep When I'm Dead," "Anywhere USA," and "Honky Tonk Friends" but then you take one listen to

Produced by Don Geham

for Rhapsody Productions, Inc.

Arista Nashville Records


"Alyssa Lies" or "Let It Rain" and you are sure to be baffled.

The pure vocals and sensitive story of child abuse in the song "Alyssa Lies" has thrust Carroll into the fast lane.  "Alyssa Lies" was the fastest rising debut single by a male country artist last year.  Carroll started the year off with a bang, too.  "Alyssa Lies" made digital history - scoring the highest country new artist debut sales on the SoundScan's Digital Song chart since it started.  His album, "Waitin' In The Country" debuted at the #1 spot on the Billboard's Top Country Albums chart with first-week sales of 57,608 which also placed Carroll at the #8 spot on the Billboard 200 pop chart.  For a debut artist, this is huge.

"Let It Rain" is the song which shows Carroll's unbelievable range.  Carroll sings a high falsetto part in the chorus which makes it nearly impossible not to feel the emotion in this song.  "Lookin' At You" is another high end track from "Waitin' In The Country."  "Lookin' At You" would be a perfect fit for radio and I'm sure the fans would agree on this one.  Carroll recently released his follow-up single to "Alyssa Lies" with a track called "Livin' Our Love Song."  It's not surprising that this is his second single, because this is another one of the top picks from 'Waitin' in The Country."  The video for "Livin' Our Love Song" can be seen on GAC and CMT.  The video actually starts with an intro from his song "Alyssa Lies" which is a great strategic pitch considering there was never a video for "Alyssa Lies."

Pop/country sensation Jewel lends her writing hand and vocals on "No Good In Goodbye."  Jewel and Jason Michael co-wrote this song with fellow hit songwriter, Shaye Smith (writer of: There Is No Arizona- Jamie O'Neal and Songs About Me- Trace Adkins).  "No Good In Goodbye" has hit written all over it and I think both Jewel fans and JMC fans will like this one.

"Waitin' In The Country" is one of the best debut CDs to hit the shelves in a long time.  Carroll's CD sets the bar high for any release in 2007.  So, Carroll doesn't look as he sounds - the important part is the music and Carroll nails every aspect of the music.  I think his image is perfect for him - It's a different look and he is unique and what could really be better than that?