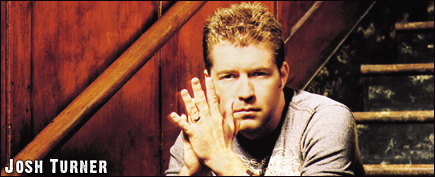 Josh Turner: 'Everything Is Fine' – Album Review

Josh Turner's latest release, Everything is Fine, is steeped in tradition with a few surprises thrown in to shake up the record a little bit.  Josh's deep baritone voice is at its finest on this album – even going so low at times that the listener will find their skin tingling.  Josh is the youngest member of the Grand Ole Opry and knows what a country album should sound like.  These twelve songs, many that were co-written by Josh, come together to make an album any fan of traditional country music must have.

The album's title track, "Everything is Fine", leads off the album.  It is song is about a man who is


content with his life.  He has a home, is married to the woman of his dreams, and has a little girl who looks like her mama.  The song's catchy chorus says it all: Everything is fine, fine, fine / Through the sunshine and the rain / I got a peace of mind / You know I can't complain / I make it a point to thank the Lord /  When I got Him on the line / I'm feeling good and everything is fine.

While Josh's album is largely rooted in traditional sounds, the hot single "Firecracker" and the rowdy "Trailerhood" are a few of the surprises.  "Trailerhood" is the one song on this album that just doesn't fit, though.  While it is a good song, Josh's deep voice overpowers the fun lyrics and gives the song a more serious edge then the lyrics intend.  Another artist could deliver this song better – as it is not the type of song many fans would associate with Josh.

Ever faithful to his beliefs, Josh includes two songs that have a spiritual feel to them – "The Longer the Waiting/The Sweeter the Kiss" and "The Way He Was Raised."  "The Way He Was Raised" begins as another typical country song but ends with a much deeper message.  "Soulmate," a song co-written by Josh, is about the love he has for his wife.  "Baby I Go Crazy," another Josh co-write, is a somewhat risqué song about being turned on by the shaking of a woman's hips and her wearing her party dress. "South Carolina Low Country" pays tribute to the music Josh sang growing up and when his voices goes down deep on the word 'low' – that skin tingling feeling is definitely felt.

As traditional as Josh is, there is one song on this album that throws tradition out the window.  "Nowhere Fast" is a duet with R&B artist Anthony Hamilton and is, quite frankly, an incredible song and a personal favorite of mine.  Its smooth music and lyrics – literally about going nowhere fast – deliver a message that makes the listener stop and think.  This song has the potential to be a huge hit for Josh on the country charts as well as the pop charts.

Everything is Fine has solidified Josh Turner's place in country music.  While other artists are getting farther away from the sounds that made country music what it is, Josh remains true to them, even covering a George Jones hit, "One Woman Man."  This album will remind any listener what pure country music sounds like.  To play off the album's title, "everything is fine" with Josh Turner's third album.