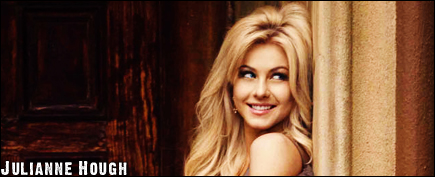 Julianne Hough: 'Julianne Hough' – Album Review

I wanted to like Julianne Hough's self-titled debut album.  Julianne herself is incredibly likeable and I didn't want my opinion of her to change by a poor attempt at a music career.  Before listening to her album, I peeked through the liner notes and saw that she'd recorded songs penned by some of the best songwriters in the business – a good sign.  I liked her debut single as well – another good sign. Wondering whether or not Julianne was trying to ride her wave of Dancing With The Stars fame to a music career or if she was actually on to something, I popped her CD into my stereo – hoping to like what I was about to hear.


The album begins with Julianne's debut single, "That Song In My Head".  The song is aptly titled as the bouncing arrangement and catchy lyrics are sure to get stuck in the listener's head.  The next track, "You, You, You" makes use of repetition with lyrics like It's insane, sane, sane / But I'd stand in front of a train, train, train / Just to hold your hand / In the pouring rain, rain, rain. The song has a mellow yet sweet vibe to it that will make it a hit for Julianne.

"My Hallelujah Song" was written by Steve McEwan and Craig Wiseman who co-wrote Kenny Chesney's hit "Young" and who each have several number one songs to their credit.  This is a song about a young girl finding the place in life she truly belongs and celebrating that.  Julianne delivers a powerful vocal performance on this track that makes the listener believe Julianne is truly living her own hallelujah song.

Sassy and fun, everyone knows the girl "Hello" was written about.  The song creates a picture of Julianne lecturing a friend about her choice in guys as the friend goes on and on describing yet another guy who is no good for her.  With a chorus that reads Hello? / Are you listening? / Have you even heard a single word I've said? / Hello, wake up and smell his cheap cologne / How can I get it through your fairytale head? / Clue phone's ringing / Girl, it's for you / Hello?  It is a song that listeners can not only relate to but will want to sing along with as well.

Julianne's brother, Derek Hough, joins her on "Dreaming Under The Same Moon".  Derek is also a professional dancer and apparently a singer too.  A song about being apart from loved ones while chasing their dreams, Julianne and Derek's voice blend well and produce excellent harmonies.  The preceding track, "Jimmy Ray McGee" takes on a storyteller's role, telling the tale of high school and making difficult choices.  The song sends a great message to young girls who are feeling pressured by others, guys in particular, to engage in something they aren't ready for yet.  It tells them it's okay to say 'no'.

Like I said, I wanted to like Julianne Hough.  Not only did I like her debut album – which debuted atop the country album charts following its May 20th release – I became an even bigger fan of hers.  There is something refreshing about this album.  Not only is it full of top-notch material and stellar vocals, but a positive energy runs through it that has been lacking from a lot of country music as of late.  Julianne Hough isn't riding a wave of fame to a music career.  She has one.