songs that LBT co-wrote with their friend and producer, Wayne Kirkpatrick.  The final 2 songs ("Firebird Fly" and "Lonely Enough") were written by Jessi Alexander, Jon Randall and Jon Mabe –– and Jessi Alexander, Jon Randall and Darrell Brown respectively.

Little Big Town's latest CD, A Place To Land shows the progression of the band as they went through some changes over the last few years. "I'd say the record is definitely a cousin to The Road To Here – yet there's some growth and evolution that I think makes a lot of sense" Karen Fairchild said last June during the recording process of A Place To Land.  "I think we've just matured and understand better who we are as a band."

Band mates Jimi Westbrook and Karen Fairchild tied the knot in late May 2006.  Kimberly Roads and longtime friend Stephen Schlapman wed in November 2006 – and on July 27, 2007, they welcomed a baby girl, Daisy Pearl.  In March 2007, Phillip Sweet married Rebecca Arthur and on December 27, 2007, their daughter Penelopi Jane was born.

One of the most unique qualities about Little Big Town is that they're "country" yet they still draw from outside influences when they write and record their albums.  Their songs tend to have an acoustic rock feel to them, but their strong lyrics prove why they're in the country music genre and going strong.  The vocal collaboration of Little Big Town just might be the strongest in country music right now. A Place To Land is another consistent release from Little Big Town.  Highlights include "Fine Line," "I'm With The Band," "Evangeline," "Vapor," "Novocaine," and "A Place To Land."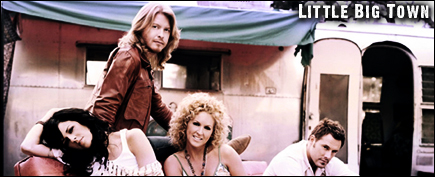 Little Big Town – A Place To Land Review

By Janelle Landauer

Little Big Town's sophomore project from Equity Music Group, A Place To Land, stands to be their most musical and creative release yet.  One listen to "I'm With The Band" (their first single from A Place To Land) and you'll be hooked.  "Fine Line" is another favorite from the album – and it really showcases the growth of the band, vocally.  "Evangeline" is chilling... even haunting and talks about the emotional abuse that a woman is receiving.

"Novocaine" is probably the most addicting song found on the CD.  "Novocaine" is also just 1 of the 10