"Viola taught me how to do chain embroidery. I learned to do it by hand when I was little, but it's something you can only learn when you are little because you would never have the patience to do it."

Manuel's experience with Nudie cemented his place in the Western wear world. Nudie's use of rhinestones and spangles and flare for the dramatic were the perfect match for Manuel's skills and creative hunger, and Manuel soon became Nudie's chief designer. "He treated me like a king," Manuel said. "I got whatever I wanted, all the fabrics, all the thread. It was like a freedom song for me and I will always be thankful for that."

"Nudie suits," as they became known, were worn by everyone from Hank Williams Sr., Roy Rogers and the Fifth Dimension to Gram Parsons, Jimi Hendrix and John. When a young singer named Marty Stuart walked in one day in awe of the designs, a lifelong friendship began. Stuart had grown up watching cool cats Ernest Tubb and his Texas Troubadours step off the bus in these suits made for kings, and had saved $250 in hopes of acquiring one for himself on his first trip to Nudie's. Little did he know it would take 10 times that much to have one of the beauties made, but when Manuel saw the gleam in his eye, he offered to give Stuart a shirt for free. Now a collector of Country Music memorabilia and a champion of preserving its history, Stuart still feels that same rush when he slides into a Manuel jacket and shines like a new diamond.

Manuel: A Country Music Treasure is Exhibited at the Frist Center for the Visual Arts

By Lorie Hollabaugh

In a quiet old building on Nashville's west side, a few blocks from the bustle of Music Row and Downtown, sits a hidden treasure - the shop of noted Western wear designer Manuel. Walk in the door and you'll feel like you've reached the end of the rainbow. Brilliantly colored jackets and garments that gleam and sparkle like diamonds are hung all about, daring the eyes to dance from color to color and leaving you feeling as if you might have glimpsed a Supernova. Then there are the photos of legendary entertainers that line the walls, silent testimonies to the artistry and popularity of a man who has influenced the entertainment world for more than four decades.

Manuel is more than a clothing designer. His story is the American Dream. So it is fitting that his latest project, a collection of 50 state jackets, each painstakingly tailored to include specific details from each state's history, is being honored with an exhibit at Nashville's Frist Center for the Visual Arts. The collection is his way of saying thanks to a country that has offered him a life nearly beyond his imagination. Manuel dresses stars including Bob Dylan and Elton John, and counts many of them as friends.

As a young boy growing up in a small village in Mexico, Manuel Cuevas Martinez once sold oranges on the side of the road to make money for a ticket to see a Western starring the Lone Ranger. Years later, as the chief designer in famed Western wear purveyor Nudie Cohen's shop in California, Manuel's first custom order was to design a shirt for none other than Clayton Moore - the Lone Ranger himself. From the time his brother first sat him at a sewing machine, Manuel's destiny was set, and he knew America was the place to make his dreams come true.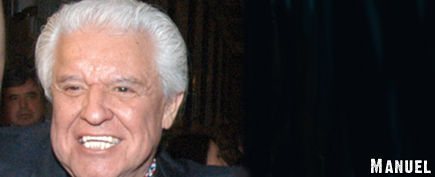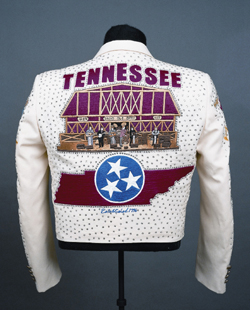 Manuel "Tennessee" jacket

Photographer: Alan Mayor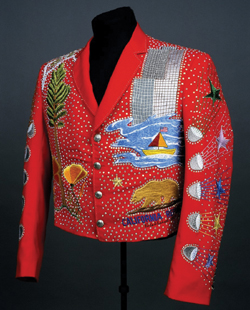 Manuel "California" jacket

Photographer: Alan Mayor

"I was kind of a little sponge," Manuel recalled. "I read the Iliad and the Odyssey, and in those years I was living in my own world and it was nothing but fantasy. And living with great parents there was so much to absorb and live for. I was impregnated with happiness! I was one of those little nerdy, stupid, good little students - second to none throughout my school life. I was well behaved, a great Mama's boy. Then my brother taught me the sewing machine, and I just fell in love with that."

After studying psychology at the University of Guadalajara, Manuel came to the states armed with skills in leather tooling, tailoring, designing, embroidering and boot making.

During the 1930s and '40s, as cowboy stars Tom Mix and Gene Autry rose to stardom, several immigrant custom tailors also found prominence. Rodeo Ben, Nathan Turk and Nudie Cohen brought their colorful fabrics, whimsical detailed embroidery, and elements of Slavic folk art to their designs, and the Western entertainers were soon snatching them up as quickly as they could be turned out. Manuel arrived in Los Angeles during the height of this era in the mid-1950s, and took a job as a fitter with Sy Devore, the Hollywood tailor to clients including Frank Sinatra and Bob Hope. Soon after, he went to work at the studio of master embroiderer Viola Grae, who taught him how to use the embroidery machines that are crucial to his design process today.

"It really does make a difference," Stuart said. "I'm still mesmerized by it. We all want to be dazzled by something a little grander than our everyday existence, and Manuel creates that. You become a star the minute you put his clothes on. Manuel understands what we do. He's fearless, and he has an endless supply of knowledge concerning the art of fabric. He hung an image on us that counted and lasted."

Manuel's reputation in both design and imaging became so well known that the great Hollywood costumer Edith Head recruited him for help in dressing James Dean during the filming of "Giant." "She came to me and said, 'You're the king of cowboy, the heritage guy, and I really want you to take care of James Dean.' So I read the script and agreed, and that's where my influences started to really flare out. Jeans became really hip then. Jeans were really disrespectful to wear up until then, but after 'Giant' and 'Rebel Without a Cause' it was cool because James Dean was wearing them. There were no Levi's or brands back then. I made those for him."

Manuel consulted on nearly 90 films and television shows. He would often slip designs in for other companies on the side while working with Nudie, doing a gown or a swimsuit here and there. "People always want to put you in a little box - 'You're a western designer' - but I would do California sportswear, or a chemise or dress. I developed a swimsuit for Raquel Welch once, and because she was

Latino I said, 'I'm going to make something special,' and I put the American flag on the suit. And they said, 'You can't do that with the national banner, for God's sake!' And I said, 'Why not?' And it became their most popular suit."

In the mid-70s, Manuel opened his own shop in Los Angeles, attracting old friends and clients including Dylan, the Grateful Dead, John, and later Dwight Yoakam, who recruited Manuel to create an image for him that launched a fashion craze. Manuel modeled Yoakam's look partially on James Dean's look in "Giant," and his tight, concho-studded jeans and cropped tailored jacket cemented his hillbilly cool image.

By the end of the '80s, Manuel decided to move his store to Nashville. "I wanted to see the kids grow healthy and safe, and L.A. started to get a little too tight for me, and too complicated. I'm extremely thankful for my time there though because that was the place where I made my career flourish."

The move did nothing to deter Manuel's famous fans. "I'm still doing the same thing only better I hope, and all these experiences with my beautiful clients give me new inspirations every day. And a lot of kids are liking the things I made for their parents 20 or 30 years ago. They tell me it is their favorite suit, and things like that are the thank you gifts. It's hard for people to believe I'm still kicking, that I'm making clothes for three generations. It happened with Rick Nelson's boys, and with the Jennings, and the Cashes - I just can't believe it. I must be eternal or something," he added, laughing.

Manuel's "Star Spangled Couture" collection is at the Frist through May 22, 2005. Associate Curator Katie Delmez Welborn feels the exhibit will surprise a lot of people. "The whole gallery is devoted to telling Manuel's story, to explain why these pieces cost so much, why they're being seen in a museum, and I think the fact that they are so individual and so much labor goes into each one will fascinate people. I was struck by the fact that like more traditional artists, it all begins with a pencil and a piece of paper, with Manuel sketching out the design that's going to be seen on the final product. And the way that is transferred from paper into cloth, rhinestone, silk fabrics, it's really remarkable. It really is wearable art. I like to say he's really painting with thread. When you look at the various details in the pieces, the way he's able to capture various tonal values and textures, it's remarkable."

To develop the state jacket collection, Manuel researched details from each state and tried to work those into each jacket in some fashion. It was not an easy task, with 1,600 items for each state and only three yards of fabric. From the tea on the Massachusetts jacket to cheese and a mouse on the Wisconsin piece, each one is a whimsical reflection of that state's history.

"I am a history buff - I have a minor in American history, and I'm totally into it. Back in 1986, I started thinking how I was going to say thank you to America for giving me the opportunities I've had, and I thought why not make a descriptive jacket for each state, because people don't seem to know or care about their heritage now. Sometimes American children grow up not knowing who they are or where they came from, so I said I'm going to make these jackets."

A replica of each jacket will eventually be donated to state museums across the country, Manuel said. He plans to give back in other ways.

"I'd like to create a foundation for new designers someday, because sometimes you don't have all the fabric you need, or the colors, or whatever. I always had everything I needed, but I still lacked things. Sometimes I wanted to buy all the colors of one fabric I wanted, and I didn't because I had to pay water and power. I'd like to provide young designers with the whole thing, let them create and have their minds really open. I've seen my interns ask, 'Could I borrow a piece of this?', and I say, 'What are you talking about? Everything here is for you to really cut and destroy and make mistakes on.' Mistakes are the way better designs are made. It enhances your creativity."

Manuel says he isn't ready to hang up his measuring tape. "I'm just so happy and grateful I have throughout my life done something that I love to do, and that I find so much enjoyment in. People pay me for all the fun I am having," Manuel added, in a voice half filled with disbelief. "This is more than fame, and more than dollars in the bank. It's been a beautiful ride ... I'm real, real happy at what I've accomplished. 'Course, there's so much in the tank yet."  

The Frist Center for the Visual Arts is located at 919 Broadway, Nashville, Tenn. 37203-3822.

© 2005 CMA Close Up News Service / Country Music Association, Inc.