Matthew West

History

Street Date: June 21, 2005

Matthew West is set to release "History" on June 21st.  West is a Christian artist but nonetheless, I wanted to add a review because this album is wonderful.  If you are familiar with "The Day Before You" on Rascal Flatts "Feels Like Today" album, you will also find this song on West's new album.  West wrote "The Day Before You" and both versions by Rascal Flatts and West are great.  West has an unbelievable voice and he is doing extremely well on the Christian charts.  West's new single,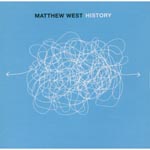 "Next Thing You Know" is at radio now and has a great meaning along with the rest of his singles.  "A Few More Days" is probably the most influential single on "History."  "A Few More Days" puts in perspective that you never know when your time is up on earth.  This single has such a great perspective and hopefully it is released as a future single.  "The Last Ones" strikes a note with West.  In January 2001, West met Taylor (which is in reference to this song) and he realized that history makers come in all shapes and sizes.  "History" ranks upon one of the favorite albums that I have received for review, and although it doesn't fit into one specific genre  it's still an album worth looking into. - Janelle Landauer

Album picks:  "A Few More Days," "History," "Only Grace," "A Few More Days" and "Next Thing You Know."