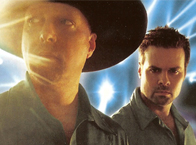 "Gone," "If You Ever Stop Loving Me," "Speed," and "My Town" are highlights although there are other highly respectable singles as well on this album.  One thing that I've been noticing about Montgomery Gentry (and really enjoying it) is that they're switching lead vocals more on different songs.  It's great to hear both Troy Gentry and Eddie Montgomery on the album instead of your typical "one" lead and all others back up.

Eddie Montgomery and Troy Gentry don't have the strongest or even the purest vocals, but they have the right music and performing skills.  It's true that their shows are wild and crazy, but as long as you're not in a "standing only" section, you'll survive the live show.

The "right" music for Montgomery Gentry might not be "original" writings, but they've went to the best of the best for their music.  On this "best of" album, you'll hear several singles that were written by Bob Dipiero, Jeffrey Steele, Chris Wallin, and Rivers Rutherford. - All well known and well-respected as songwriters and some as artists.

Overall, on "best of" albums the deciding factor is based on if you (the readers, the fans, the music buyers) really like the artist and their songs up to the date of the album release.  "Best of" albums are especially worth it in my opinion if you've liked an artist because you can buy just the "hits" and not get stuck with a piece of junk with only one or two quality tracks.  If you've enjoyed Montgomery Gentry in the past, this is the perfect album for you. - Janelle Landauer

Montgomery Gentry

Something To Be Proud Of - "The Best of 1999-2005"

I don't agree with half the things that are done by Montgomery Gentry, but what we can agree on is good music.  Montgomery Gentry's "Best Of" album is just that - the "best" that Montgomery Gentry has recorded and released over the span of their career thus far.  "Something To Be Proud Of  Best Of" starts with their current single, "She Don't Tell Me To."  This isn't my favorite single from them, but they do have other good singles.