every way you look at them.  They're singers, songwriters and excellent musicians.  Plus, they've been playing for years on the road with their father (a traveling Evangelist preacher) along with their other siblings so they're used to playing live.  Ashley, Austin and Adam are only 3 of a total of 11 children.  It seems their parents, Freddy and Sylvia, always wanted girls… After 9 boys (including twins), they finally got not just one girl, but twin girls!  I guess you could say that music also runs in the family – as all of the Clark children are musically talented and play instruments or sing.

It's exciting seeing that a few of the brothers from the original band are still trying to make it together and we're ready to see where this journey takes them from here.  They are a fantastic bunch of guys – and one of the most talented all-around bands out there.

Another band that might be familiar to country fans is – Sixwire.  They had that catchy tune, "Look At Me Now" that was released on their debut album in 2002 for Warner Brothers Records.  After their departure from the label, a few of the members had also been tied in with a reality show that searches for the next big thing.  John Howard, Steve Mandile and Chuck Tilley played with the house band on the USA reality show, Nashville Star.

Sixwire's harmonies are tight – and it shows that they've been doing this a long time as well.  They have a strong country background and they're here to showcase what they have been doing for years.  Sixwire has also made it into the top 8 on the show, and on the new episode next week (Friday, November 16), it will be down to the final 7.

The country bands are representing our genre well.  It's great seeing familiar faces that are not giving up, and are still going for it. And, to be honest, we have two of the most well put together bands from our industry shining through.  Both The Clark Brothers and Sixwire have had a lot of tough luck in the past, but they have stayed together and it's paying off for them now.

Be sure and watch "The Next Great American Band" on FOX Network, Friday nights at 8/7 Central time.  For more information on the contestants or the show, visit:
www.nextgreatband.msn.com
The Clark Brothers, compromised of Adam, Ashley and Austin, were already in the spotlight with 3 more of their brothers – when they were known as "The Clark Family Experience."  Many country fans might remember them from their highly popular single "Meanwhile Back At The Ranch" from their debut CD released in 2002 and produced by Byron Gallimore and superstar Tim McGraw for Curb Records.  Unfortunately for the band, their CD didn't follow the common trend of hitting the stores when the band was hot and the song was doing well on the charts, so things didn't work out for them the first time around.

During their time away from their own band, Adam played with the country group SHeDAISY and Ashley had been playing with Carrie Underwood up until recently.  Austin played with both SHeDAISY and Carrie in the past as well.  The Clark Brothers just might follow in the footsteps of Carrie, who took home the title of American Idol on Season 5.  Judging from their performance skills alone, I think they really have a good chance of going far in this competition and they're already in the top 8.

The Clark Brothers' live shows are full of so much energy and they are true talents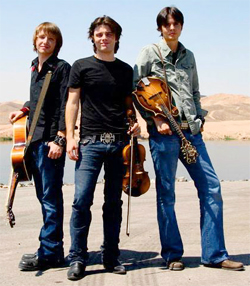 "The Next Great American Band" just might be a country band that we've heard of before…

by Janelle Landauer

On Friday, October 19, Fox Network debuted the new reality show called "The Next Great American Band."  From the producers of the smash reality show "American Idol" – this new band show follows the same format as Idol, except that this time they're searching fro the next great "band," – not an individual recording artist.

Following the success of Idol with stars coming from the show like Kelly Clarkson, Carrie Underwood and Daughtry, it was really only a matter of time before they did a show for the bands.  The Next Great American Band features a large variety of music – everything from bluegrass and country to rock and punk.  But, when you take a closer look at the country bands that are on the show, you just may recognize a few familiar faces from a few years back…