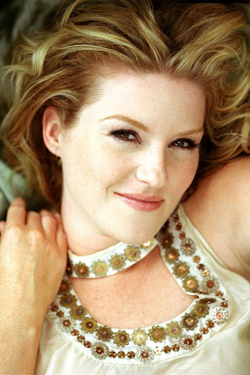 Rachel Proctor is best known for her touching song - "Me and Emily."  The hit single appeared on her debut BNA Records album, entitled Where I Belong which was released in stores on August 10, 2004.  To this day, "Me and Emily" is still one of Proctor's favorite songs that she's written overall because of the impact it has had on so many lives.  "It's wonderful when you know something you've written has made a difference even if it's just in one life.  I still get e-mails daily from women who've been in abusive relationships that say "Me and Emily" changed their lives. That's a big thing."

Proctor and BNA Records eventually parted ways but Proctor is in the process of looking for a new record deal.  Her main focus has been on writing lately and she is back with a 5 song EP Project called Only Lonely Girl.

From her BNA debut "Where I Belong" to her new EP, Proctor admits that she has changed some.  "I've matured as a person and as an artist. My songwriting has gotten so much stronger. I think taking some time off to focus on getting the music right has changed everything. The new music will be more ME than ever before."

Only Lonely Girl includes 5 songs - 4 of which she wrote with her husband: musician/songwriter John Lancaster. Proctor explains, "John and I were working together long before we started dating so it comes naturally to us. Writing with John is like breathing.  It's just supposed to be.  He's the music man and I'm the story teller. It's a perfect co-writing situation."


photo courtesy of Rachel Proctor

The title track, Only Lonely Girl, is Proctor's favorite from the EP because of how conversational it is. "I have such a good memory of the night John and I wrote that song. It just flowed out so easily. It's one of those songs that I think anyone can relate to."  Proctor also mentioned in our recent interview that she feels her music is real.  She writes almost everything from her heart and she loves a great lyric with a good story. "I like a song with a unique melody and story. Songs that make me feel something whether it makes me laugh or makes me cry.  Very rarely do I have a specific idea when I write. I'm really sensitive to what's going on around me at all times so I use that energy to write and I believe that's why a lot of my songs are conversational verses catchy."

Proctor has also had a string of songs recorded by other artists including most notably "Where Would You Be" by Martina McBride.  Other artists who have recorded her songs include Blake Shelton, Katrina Elam, Lila McCann, Erika Jo and Kenny Loggins.  Though Proctor has yet to score a number one song as an artist or songwriter, she is still pushing forward. "I've truly accomplished every goal I've ever set for myself. Now it's just a matter of building on that."

SONGWRITER'S SPOTLIGHT: Rachel Proctor