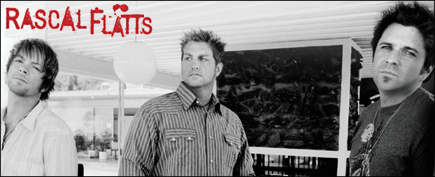 Rascal Flatts: 'Still Feels Good' – Album Review

Rascal Flatts is back with their fifth studio album and while Still Feels Good doesn't deliver anything too original from country music's favorite group, it does not disappoint either.  Loaded with ballads and the occasional upbeat song, Still Feels Good is a decent follow up to the trio's last widely successful album, Me and My Gang. 

The album leads off with Take Me There, which has spent three weeks at number one.  This song was destined for the top of the charts from the onset with Kenny Chesney co-writing it and Rascal Flatts



recording it.  A song about wanting to know someone inside out, it is classic Rascal Flatts from the opening bars to the closing notes.

Known for their soaring ballads, Rascal Flatts comes through with several.  Every Day is a love song in which a man marvels at how a woman's love can save his life every day.  The listener is left wondering just how much higher lead vocalist Gary LeVox's voice might go throughout this song.  Help Me Remember finds a man asking his lover to help him remember the good times they had before she leaves him.  Another ballad, Here, is about being thankful for every heartbreak and bump in the road that led a man to a woman's side.  It is similar to the trio's God Bless the Broken Road.

Bob That Head makes the listener do just that.  With lyrics that stay stuck in your head all day and a beat that makes you want to get up and dance, this song will be a huge hit at their live shows.  Everyone knows the kid in this song.  He works all week just to blow his money on speakers and amps so he can cruise down the strip blasting his music come Friday night – which is essentially what this song is all about.  The only problem with this song is that it channels memories of the group's single Me and My Gang.  Otherwise, it is sure to produce driver's seat dancing for those listening to this high energy song on their way to work.

The most original song on the album is She Goes All The Way, a duet with R&B crooner Jamie Foxx.  The song has an R&B feel to it and the voices of Rascal Flatts and Jamie Foxx blend in a way that makes this song downright sexy.  It has big cross-over potential if it is released to radio.

This would not be a Rascal Flatts album without a tear-jerker.  It's Not Supposed To Go Like That packs an emotional punch from the very beginning when a child shows his father's gun to a friend that has never seen one before.  Playing cowboys and Indians, the gun fires, killing one of the young boys.  The song closes the album out and is sure to leave the listener with tears streaming down their face.

While Rascal Flatts sticks to the tried and true adage of 'if it ain't broke, don't fix it' and largely plays it safe with their song choices, this is still a good album.  Fans of the trio came through once again as Still Feels Good posted first week sales of 547,000 units – pushing them to the top of both the Billboard's Top 75 Country Albums and the Billboard Top 200 charts.  Rascal Flatts is on top of their game right now and this album only adds fuel to the fire this trio has set.

»
Click
here
to see the video for Rascal Flatts' latest single, "Take Me There"
»