Stand

What Hurts the Most

Backwards

I Feel Bad

My Wish

Pieces

Yes I Do

To Make Her Love Me

Words I Couldn't Say

Me and My Gang

Cool Thing

Ellsworth

He Ain't the Leavin' Kind

Featured Artist: Rascal Flatts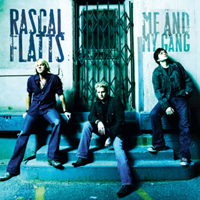 RASCAL FLATTS

ME AND MY GANG

The country trio, Rascal Flatts, is back with yet another hit record to their names.  "Me And My Gang" hit stores on April 4, 2006 and sold an impressive 721,747 units in the first week alone.  The first single from their new album - "What Hurts The Most" has already topped the country R & R charts.  Hit-maker Jeffrey Steele penned this hit along with Steve Robson.  The video directors really outdid themselves on the video for the single too.  If any of you have already viewed it, you would know it's such a powerful video.

One particular song on "Me & My Gang" has brought up so much positive attention lately.  I didn't hear "Backwards" right away but I heard about it for days before I finally listened to

it.  "Backwards" was written by Marcel (Nothin' To Lose) and Tony Mullins.  "Backwards"

is really a true "MARCEL" song... So, it's not like your normal country song - it's just a bit backwards.  Everything always gets taken from you in the "normal" country songs so it's time someone wrote a song that goes against the typical ways and gives everything back to you.  This song is pure fun and it's great to see that the road band for Rascal Flatts got to partake in the making of this song!

The standout ballads are "What Hurts The Most," "My Wish," and "He Ain't The Leavin' Kind."  If Rascal Flatts were to visit Kenny Chesney in the islands, "Yes I Do" would be the product of that trip.  "Yes I Do" has this island feel to it - just like something you'd hear from Chesney.  It works for the Flatt boys even though it's not something you'd normally expect to hear  from them.

The title track and also their current single: "Me And My Gang" is yet another Jeffrey Steele tune.  I'd really like to know how many songs Steele writes a day because his songs are everywhere... and they all seem to be the favorites no matter what album they're on... "Me And My Gang" is no exception - another stellar track written by the best songwriter in Nashville and performed by the best group.

"Pieces" is the one track on "Me And My Gang" that you'll find all of their names on the songwriting credits.  Joe Don Rooney, Jay DeMarcus and Gary LeVox wrote this one with Monty Powell - a talented songwriter who writes a lot with Keith Urban.  (Days Go By, Tonight I Wanna Cry...)  Jay DeMarcus co-wrote "To Make Her Love Me" with Neil Thrasher and Wendell Mobley.  Joe Don Rooney co-wrote "Cool Thing" also with Thrasher and Mobley.

The guys know how to pick good radio songs.  Several songs on "Me and My Gang" could easily be released to radio.  They've come a long way since their debut single, "Prayin' For Daylight" back in 2000.  It's hard to believe that Rascal Flatts have been at this 6 years and they're still going strong.  "Me And My Gang" is by far the best album released this year and it will probably hold up for quite some time.  - Janelle Landauer

01

02

03

04

05

06

07

08

09

10

11

12

13