Ronnie Milsap: Inspired by Ray Charles on New Album of Standards

By Keith Ryan Cartwright

Country legend Ronnie Milsap has waited a long time to record Just for a Thrill, his new album of standards.

"I've wanted to do this for 15 years," Milsap said.

The classic songs on the Image Entertainment release include "I Don't Want Nobody to Have My Love But You,"  "Ev'ry Time We Say Goodbye" and "But Not for Me."

"A lot of this probably comes from Ray Charles," Milsap said. "Honestly, I miss him."

Recorded in Los Angeles at the famous Capitol Studios, the album was produced by Rob Galbraith and Jerry Sharell.  Sammy Nestico, who has a long list of credits including Natalie Cole and Count Basie, handled arrangements.

"The matching of songs and arrangers is as tough as making a couple get married and then asking them to fall in love," Sharell said.  "Ronnie had a certain sound he wanted in specific songs."

"This is music that is organic," said Milsap, who culled a list of 174 songs down to 14 with help from Sharell. "You do a rehearsal of the chart, run one down for the engineer and usually by that second take you're as good as can be and the music is still fresh. I've been living with these songs for a long time and I was pretty ready to go."

Sharell said that musicians sense how a project is going to go early on in the recording process.

"They knew we were serious when Sammy Nestico, Charlie Calello and Jimmy Haskell walked into the studio with their briefcases and their charts," Sharell said. "Then it becomes, 'Show me,' and they did. Two days later we left the studio, but the music we made there will resonate for a long time."

Milsap says his friendship with the late Charles was an inspiration during the Just For a Thrill album.

The two met backstage at a Charles concert in Atlanta in 1963. 

"I was telling (Charles) about my situation and he said, 'Why don't you sit down here and play something for me. Let's see what you got.' I played three or four songs and his advice to me at the time was, 'Son, there's a lot of music in your heart and if I was you I'd go with your heart.'"

It was the start of a relationship that included performing together and lobbying Congress about social issues. They last performed together in Houston in 2003.

Charles died in June 2004.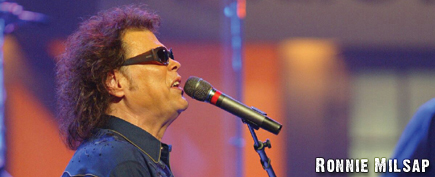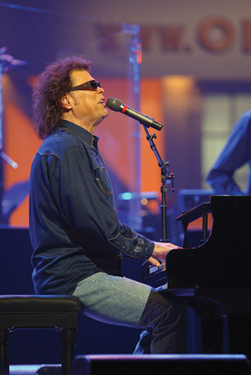 Milsap was born blind from congenital glaucoma on Jan. 16, 1944, in Robbinsville, N.C. He began attending the Moorhead State School for the Blind in Raleigh when he was 6. At age 7, he studied classical music and learned to play the violin and soon mastered the piano, guitar and various string instruments and woodwinds. He took refuge in music and obsessively listened to the radio, especially the late-night programs featuring Country Music, gospel and R&B. By age 20, he released his first independent single, "Total Disaster."

In 1965, he started his own band and four years later he had his first R&B Top 5 hit "Never Had It So Good," written by Ashford and Simpson, and he continued working as a session musician. His 1970 pop hit "Loving You is a Natural Thing" was followed with a 1973 recording contract with RCA Records, where he stayed for the bulk of his career.

Through the years, he has won eight CMA Awards, taking home Entertainer of the Year in 1977, Male Vocalist of the Year three times (1977, '76 and '74) and Album of the Year four times (1986, '78, '77 and '75).  The seven-time GRAMMY winner has scored 40 No. 1 hits on both the pop and Country charts, including "It Was Almost Like A Song," "Smoky Mountain Rain," "(There's) No Gettin' Over Me," "Any Day Now," and "Stranger in My House."

Several of Milsap's hits were pop smashes as well as Country hits.

"I had to crossover because you couldn't sell big numbers at that time," Milsap

said. "Now you can stay inside the format and go multi-Platinum, but in the '70s you couldn't do that."

One of his secrets to recording is to get as many people as possible to watch the sessions.

"I wasn't singing to walls and I wasn't singing to a tape recorder. I wasn't singing to a faceless three or four people in the control room. I used to have people come down to RCA just to have a group of people hang out," Milsap said.

"Most sessions are closed but I like to have them open, make it feel like you're singing for somebody," he continued. "Technology is fascinating but it's too sterile and too stark. It's difficult today in this world of perfect pleasure because music is not supposed to be perfect. It's organic and it's spontaneous."           

© 2004 CMA Close up News Service

Photographer: Allyson Reeves

Photography courtesy of Rogers & Cowan