"I didn't hesitate to take the opportunity.  I got a CD from Mike, and I remember charting out the full show that night.  We met the next day on Music Row for an audition.  I played through a few songs with him and we talked about logistics.  Then he told me that the bus call was 9pm Wednesday night.  I couldn't believe it.  My first show was in Omaha, NE at the Qwest Arena. There were around 15,000 people at the show, and it was the largest venue I had ever played.  At the time I didn't realize that the guys were actually looking to find a guitar player full time.  I finished out the weekend, and Mike asked me if I would take the job.  The rest is history. I've been with them for over a year now, and I feel thankful every day for being able to do what I love."

Ochsner now plays acoustic and electric guitar on the road with Lonestar and has several favorite memories of being on the road with them so far.  He explains, "We've seen some great places together, and we always have good times with lots of laughs.  One of my favorites was when we performed for President Bush at Ford's Theater this past summer.  Another great time was when we pulled two shows off in a single day.  We played a corporate show in Charlotte in the early afternoon.  After the show, we rushed to the airport and flew in a private jet (Gulfstream G4) to Atlanta to play the 2nd show that evening."

Though it can get tough being on the road away from friends and family, Ochsner really enjoys nearly every aspect of touring. "I love traveling and seeing a new place each day.  I love traveling on a bus.  The shows are always the best part."  When asked about his favorite Lonestar song to perform live, Ochsner said it's a difficult choice. "I think I have to go with "County Fair", a cut from the "Let's Be Us Again" album.  It's just a fun song with a driving country feel.  "Mountains" and "You're Like Comin' Home" are also favorites of mine.  I'm also really excited to start performing some of the newer songs from their new album, Mountains."

Mountains was released on October 17, 2006 and includes the title track (and hit single) - "Mountains."

In addition to touring, Ochsner is also writing and doing some studio work. "I have only been serious about writing for the past year or so. I used to dabble in it, but I never sat down with somebody else to actually finish something.  Recently I've worked with a few good friends of mine.  I have done a bit of writing with my friend Brian Carter.  He played drums for Paul Scott.  Jason Wall and I have really had a good time writing together.  We initially worked together in the studio when he had me play some guitar for a session he was producing.  We've written a good amount so far, and we're already planning to get started for this year soon.  We're planning sessions throughout January on some new projects.  It's nice to get new sessions and projects on the calendar. They balance out things in compared to events on the road.  For me, I've got to have both. They all keep me going."

"I came to Nashville in hopes of playing guitar for a recording artist.  Sometimes I can't believe I get to do what I do at a young age. I've played the Opry, performed on television and for the President, and I have seen so many great places around the country.   The most motivating thing for me is to stop and realize the dream I had when I was younger and to see that I am so blessed to be able to live that out already.  Some of these things I figured would take 10 years or more; that is if the opportunity were to even come about.  I feel very blessed to be where I am at with everything that I've accomplished. For me, though, this is not a point in which I say I am content. After being in Nashville, I see that there are so many opportunities.  I want to continue doing what I do, improving as I go along; but I would also like to focus on new things including making more time for writing and possibly producing at some point."

Whether Ryan Ochsner is on the road with Lonestar, writing songs, or in the studio working, he knows that it takes a lot of drive and persistence to succeed in such a tough industry. "It's definitely a networking industry, and being sincere in building relationships will get you far.  I think success will come if those things are kept in mind.  There is no real sure-shot way of making it in the music business, but I think the majority of success is accredited to a strong mindset and drive.  If you have a dream, always remember it, and never give up."


Updated:  August 13, 2007

Musician Spotlight: RYAN OCHSNER

[Guitarist with Kellie Pickler]

Musician Spotlight Update:  RYAN OCHSNER's New Gig On The Road with Kellie Pickler

By Janelle Landauer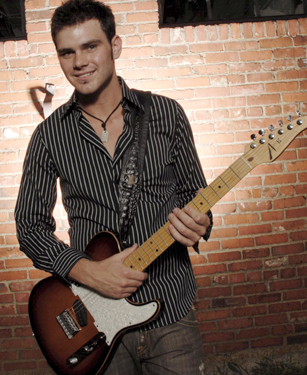 Cameron Powell Photography

Added:  February 20, 2007

Ryan Ochsner made the move to Nashville from Greeley, Colorado in August of 2004.  Throughout the next year, Ochsner played a few small gigs around town, and in June he began touring with the country artist Paul Scott.  Ochsner was able to get a feel of road life - playing gigs in Georgia, Michigan, Missouri and Ohio throughout the summer of 2005.

Around the same time Ochsner was touring, he also met and became friends with Michael Britt of Lonestar when he sold a guitar to him. "I had a Tom Anderson T Classic listed for sale on an online forum.  He contacted me and was interested in it, so we talked about working something out.  I was going to be in Colorado the following weekend, and Lonestar just happened to be performing in Denver, so Mike invited me out to the show. I was really blown away by the performance.  I remember thinking how great it would be to play with an act like that someday. The following week Mike ended up taking the Anderson off my hands in trade for a Fender Custom Shop tele and a Fulltone Full Drive II pedal that he had.  We essentially became friends through this."

In September, Paul Scott decided to quit touring and Ochsner feared that his love of playing on the road would be put on hold for a long time.  But, in late September while Ochsner was playing at the Wildhorse (with Scott), he received a call from Michael Britt with a great opportunity to fill in as Lonestar's guitar player for the weekend.

A note from Ryan: Thanks to everybody out there supporting country music and coming out to all the shows.  You are the ones who allow us to do what we do and enjoy every bit of it!

I would also like to say thanks to a few companies helping me out on the road: Levy's Leather Straps, McPherson Guitars, Tom Anderson Guitars, Trailertrash Pedalboards, George L Cables, Line 6, D'Addario, and Sensaphonics.

Ryan Ochsner has a new gig out on the road - this time playing guitar for country music's newest star (and former American Idol finalist)

Kellie Pickler.  When the guitar position opened up with Pickler, Ochsner received a call from Kellie's road manager - and that call ultimately led to this new touring gig.

"He [Kellie's road manager] used to road manage Lonestar back before I worked with them," explains Ochsner.  He had come out on the road with us a few times, and I had the chance to meet him then.  It's funny how things come back around sometimes.  You never know where things are going to end up."

Everything was very "last minute" for Ochsner - from receiving the phone call to learning all of Kellie's new music. "When I was called, I had just a few days to learn a couple of songs for a brief radio show in Indianapolis" notes Ochsner.

"After that show, I had about a week to learn the rest of the material.  It wasn't quite like when I went out with Lonestar for the first time, but it was still very fast paced.  I had to use every minute of my time in those first few days to get the songs down."

Ochsner is already enjoying his new gig and making a lot of memories.

"Every gig has its own flavor or feel.  I'm thankful to be out on the road

On The Road with RYAN OCHSNER - Guitar Player for Lonestar

By Janelle Landauer

with a great group of people and to work for a wonderful artist.  We all have a good time!"

"There are definitely many fun memories we've had so far.  Most recently Kellie brought her kitten, Pickles, out on the bus, and we've all been having fun with the little guy!"