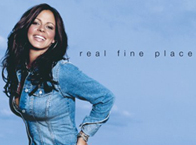 songs that are found on this album.  "Cheatin'" stood out when she sang it live, and on the album, it still stands out among all of her other songs.  Evans has to be very careful not to "stretch" her voice too far because at some points she seems to screech a bit.  Even though this has been the case on multiple singles, Evans does have a lot of things that work for her though.  Evans has a terrific selection of songs on every album that she releases.

Sara Evans has the song picking and writing selection process down.  All Evans needs to control is how far she stretches her voice.  She sometimes tries to outdo herself which isn't necessary when she can nail the song without stretching her genuine vocals. - Janelle Landauer

Sara Evans

Real Fine Place

"A Real Fine Place To Start" has been my favorite single releases from Sara Evans to date.  The single was also the lead single from Evan's new album - Real Fine Place which reached the # 1 spot on the Billboard Country Album Chart.  Real Fine Place was released on October 4th 2005.

Earlier this year, I had a chance to review a live Evans show.  She debuted several of the