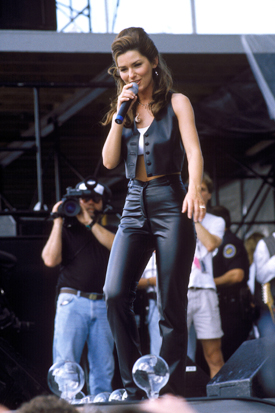 SHANIA TWAIN SIGNS COPIES OF HER ACCLAIMED AUTOBIOGRAPHY AT 2011 CMA MUSIC FESTIVAL

Former CMA Entertainer of the Year's First Appearance at the Festival Since 1996

NASHVILLE - Country Music superstar Shania Twain makes her first appearance at CMA Music Festival in 15 years to sign copies of her New York Times best-seller, From This Moment On, at the Bridgestone Arena, Friday, June 10 (2:00-4:00 PM/CT).

"I'm so thrilled to be part of the Festival," said Twain. "It is a huge reunion each year for fans and artists and I'm looking forward to seeing some of the artists I haven't seen in awhile and connecting with the fans who have been so supportive through the years."

Twain will have lots of company. During a recent appearance on the "Oprah Winfrey Show," Twain surprised the entire studio audience with two-day passes to the 2011 CMA Music Festival and accommodations at the Gaylord Opryland Resort (June 9-10). 

"We are thrilled that Shania is back for the 40th anniversary and bringing another 300 fans to the party," said CMA Chief Executive Officer Steve Moore. "She is such a warm and respected ambassador for the format and her connection with her fans speaks to the heart of what makes this event such a success."

Twain last appeared at CMA Music Festival in 1996, when it was still known as Fan Fair® and held at the Tennessee State Fairgrounds. She will return in 2011 to sign copies of her autobiography, which has been described as "revealing" and "emotionally riveting" by reviewers. The book, which was published by Atria

Books, an imprint of Simon and Schuster, is available nationwide and will be available onsite at the Festival.

Twain's docu-series on OWN: Oprah Winfrey Network, "Why Not? with Shania Twain," debuted May 8 as the highest-rated premiere to date outside of launch weekend for the network and posted triple digit growth across all key demos versus year ago Discovery Health numbers. "Why Not? with Shania Twain" airs Sunday's at 10:00 PM/ET; 9:00 PM/CT.

Twain rose to fame in the early 1990s with her debut album Shania Twain (1993), and achieved worldwide success with her 1997 album Come On Over, which became the best-selling album of all time by a female musician, and the best selling Country Music album of all time.  A five-time Grammy award winner, Twain has also achieved major success as a songwriter, winning 27 BMI Songwriter awards. Despite the fact Twain has released very few albums, she has sold more than 75 million albums worldwide to date, including 48 million in the U.S.

CMA Music Festival is held Thursday through Sunday, June 9-12, in the heart of Music City USA. The event supports music education in public schools through CMA's Keep the Music Playing campaign. To date, CMA has donated nearly $5 million to purchase instruments and equipment for Metro Nashville Public Schools on behalf of the artists who make appearances and perform for free.

For up-to-the-minute information about tickets, travel information, schedules, artist appearances and more, visit CMAfest.com, the official Internet home of CMA Music Festival. On CMAfest.com fans can buy four-day tickets (which includes all four Nightly Concerts at LP Field and the Fan Fair® Exhibit Hall) or single night tickets to the Nightly Concerts at LP Field, sign up for the CMA Exclusive e-news, watch helpful videos to make their CMA Music Festival experience better than ever, follow the CMA Facebook and Twitter feeds for more insider info and of course see the entire lineup of Country Music's biggest stars as they are announced for the event.

CMA Music Festival is organized and produced by the Country Music Association. Premiere Radio Networks is the Official Radio Broadcaster. American Airlines is the Official Airline of the CMA Music Festival. Chevrolet(TM)is the Official Ride of Country Music. Gildan® is the Official T-Shirt of CMA Music Festival. Lay's is the Official Snack of CMA Music Festival. CMA is a proud supporter of DRIVE4COPD. Fan Fair® is a registered trademark of CMA.

Image courtesy of Oprah Winfrey Network