John Sommer, Vice President, Programs of Eisenhower Fellowships, said Tanto's energy and skill impressed the organization. "Tanto was selected for the Eisenhower Fellowship on the recommendation of the program's Indonesian committee, who recognized his impressive record of leadership in the (Country Music) field and his commitment to contribute to his country's overall progress and Indonesian - U.S. relations."

Tanto said he was most excited by his visit to Nashville, one of several cities he will visit during the fellowship.

"In Indonesia people know American culture only by Country Music, but there's more to the U.S. than that," he said. "Americans may know Balinese culture and gamelan, but Bali is only one island. Indonesia is more diverse. We have 225 million people on 15,000 islands and speak more than 200 active dialects; there are many different local cultures."

Tanto is planning an Indonesian/American friendship concert in August, through the Indonesian-American Friendship Association.

"I think the music business people in Nashville can help me," he said. "I want to feature the two cultures in one show. There will be three sets. First, I will have 62 Indonesians in a classical orchestra playing symphonic arrangements of American folklore music. Second, 25 to 30 Americans playing gamelan. Third will be a fusion of those. One piece I'm thinking of using is the 'Theme from the Magnificent Seven' with Americans playing gamelan and a big Indonesian string orchestra."

Tanto will study the Country Music business in America for tips on making the music more popular in Indonesia.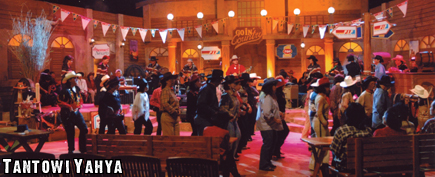 Tantowi Yahya: The Voice of Indonesian Country Music

By j. poet

Tantowi Yahya is Indonesia's most popular Country Music singer. His first two albums, Country Breeze and Southern Dreams, featuring American Country songs sung in English and Bahasa (also known as modern Indonesian) went double Platinum. His third collection, Country Manado, is already Gold and features traditional songs from North Sulawesi, played American Country style.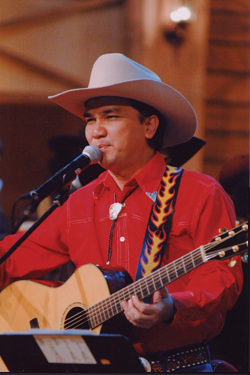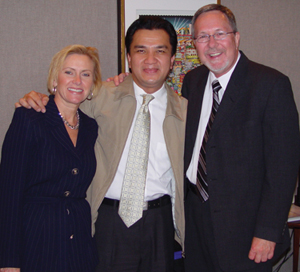 Yahya, who goes by the nickname Tanto, is involved in many show business and cultural enterprises in Indonesia.  The 44-year-old is Managing Director of P. T. Ciptadya Prestasi, a company that runs a record label and produces pageants and TV shows.  He is Chairman of the Indonesian-American Friendship Association, Director of the Indonesian Recording Industry Association (IRIA) and Chief Executive Officer of the Country Music Club of Indonesia (CMCI.) He's the Chairman and host of the first Miss Asean Pageant organizing committee. He also hosts the Indonesian version of the "Who Wants To Be A Millionaire" franchise, as well as his own weekly Country Music show "Goin' Country."

"I'm a multi-tasking kind of guy," Tanto said, his charisma, good humor and high energy evident even on the phone. "From nine to five, I'm at Ciptadya Prestasi helping to organize and produce events and overseeing the record label. But I put aside time to attend meetings of the IRIA and dedicate time every day to the CMCI, the only home for Country Music lovers in Indonesia. In the evening I host events and do my 'Goin' Country' TV show."

Tanto is currently visiting the United States as an Eisenhower Fellow.  The Eisenhower Fellowship Program, started in 1953, identifies rising leaders and provides them opportunities to work with leaders from various backgrounds to foster professional, intellectual and personal growth, leading to a more prosperous, just and peaceful world. More than 1,600 men and women including heads of government, cabinet members, journalists, academic leaders, legislators and more from hundreds of countries have participated. The Fellows follow individualized two-month programs that take them to 10-12 cities for 60-80 meetings with U.S. leaders in their respective fields.

Tantowi Yahya performs on his own weekly Country Music show, "Goin' Country," in Indonesia.

Photogrpahy coutesy of Tantowi Yahya

Tantowi Yahya from Indonesia's Country Music show, "Goin' Country" visits CMA in Nashville. (l-r) CMA Associate Executive Director Tammy Genovese; Tantowi Yahya; CMA Executive Director Ed Benson. Photographer: Wendy Pearl

"The Grand Ole Opry is one of the oldest music shows in the world," he said. "I want to know how they are able to combine radio, a live audience and television. ... I want to meet producers and learn how they decide which artists get signed, how they choose appropriate songwriters and arrangers and how they deal with the record companies. One big objective is to meet the folks in the CMA and let them know Country Music is big in Indonesia. The CMCI needs the support of the CMA to help grow the Indonesian audience."

Indonesian pop music is rooted in American Country Music, Tanto said.

"In the early '60s, most Indonesian hits were Country songs by the Everly Brothers, Skeeter Davis, Conway Twitty and Glen Campbell," he said. "The '60s were the golden era of Country Music all over the world. ... In the '70s, R&B, rock, disco and jazz killed Country Music in Indonesia. From the mid '70s to the early '80s, Country made a comeback, but it died out again until I came out with my first album in 2000.  Country Music is once again very popular in Indonesia," he said.

"In the '60s and '70s people only knew the music," he said. "Now with TV people know the lifestyle. Every day you can see Indonesians wearing

cowboy outfits and doing the line dance. My weekly show ["Goin' Country"] is live. We perform 10 to 12 American songs from traditional to modern Country. I have a six-piece band, The Ole Friends, named after the Grand Ole Opry, and two back-up singers who also give line dance lessons.

"Even though Indonesia is a Muslim country and relations between the U. S. and Indonesia are always troubled, Country Music is highly respected. I never get protested and we have more and more fans joining the CMCI every week."

Tanto's American style Country albums are unmistakably Country, even when Tanto sings in Bahasa. He has a rich, mellow tenor, and the studio band, which includes Australian steel guitar player Tom Grasso, is sharp and professional.

"I choose covers that fit my voice," Tanto said. "Sometimes translating them into Indonesian, sometimes singing in English. I do the arrangements - traditional Country, Tex-Mex, swing, Bakersfield, cajun, bluegrass and honky tonk - all the sounds I love."

© 2005 CMA Close Up News Service / Country Music Association, Inc

Tantowi Yahya performs on his own weekly Country Music show, "Goin' Country," in Indonesia. Photography courtesy of Tantowi Yahya