'Taylor Swift' Review

Street date: October 24, 2006

Taylor Swift has already had quite the start to her music career and she's only 16 years old.  At age 14, she signed with Sony/ATV Tree Music Publishing...  And, now she is signed with Big Machine Records; she released her debut single and video for "Tim McGraw"; and she released her debut album on October 24, 2006.  Swift also finished up the last 9 dates on the Rascal Flatts tour this year and next year she is slated as the opener on the George Strait tour.

The new self-titled "Taylor Swift" debut shows a lot of emotion and hurt written down and turned

into Taylor's personal collection of songs.  Take one look at her "PS" statement and it's clear that though Swift is so young, she's felt the pain and heartbreak that everyone experiences at some point in their life. "To all the boys who thought they would be cool and break my heart, guess what?  Here are 11 songs written about you. HA."  I guess that it's safe to say that songwriters just might write a song about any experience they have with you.  Songwriters thrive on real-life experiences and it's the great thing about the craft and creation of a song.  When personal feelings are involved, songs can be real easy for the writers to write and easy for the fans to identify with.  Swift had a hand in writing every song on this album and they're clearly a reflection of her life so far.

Some of the lyrics are a bit intense - but it does make for a great song overall...

"You should have said no and you might still have me."

"As far as I'm concerned - you're just another picture to burn"

"When you think Tim McGraw, I hope you think of me"

"He's the reason for the teardrops on my guitar"

"And now that I'm sitting here thinking it through - I've never been anywhere cold as you."

I'm sure there will be some growth that will come with the years, but she really does have the songwriting and vocal ability to carry her even now.  She has a very unique tone to her vocals... and she easily stands out in a crowd.  - J. Landauer

Tim McGraw

Picture to Burn

Teardrops on my Guitar

A Place in This World

Cold As You

The Outside

Tied Together With A Smile

Stay Beautiful

Should've Said No

Mary's Song (Oh My My My)

Our Song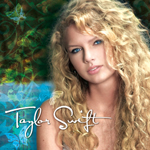 Enhanced content: "Tim McGraw" video

and Taylor's Grand Ole Opry Debut

New Artist Feature: Taylor Swift