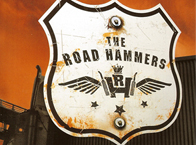 hearing The Road Hammers new release.

"I'm A Road Hammer," "Overdrive," and "Keep On Truckin'" are three songs back-to-back showing promise for this fairly unknown group.  I personally don't care for track no. 5, "Girl On The Billboard," but they come right back alive with two cover renditions - "Heart With Four Wheel Drive" and "East Bound and Down."  "Call It A Day" is among the top 3 favorites from this album.  It is the single that is most relatable to anyone who has family that travels and it's about the only time on this album where you'll see heartfelt emotion from the band.  Other than "Call It A Day" and "Willin'" you get an album filled with up-tempo trucker songs.

The one problem I see with The Road Hammers is also the one thing that seems to work with them.  Their songs aren't extremely "relatable" for listeners, but the songs are what make them work as a group.  They may have a different perspective singing all trucker songs, but why fix something that seems to be working fine?  As long as The Road Hammers continue doing what they did on this self-titled album, I would anxiously await for future releases. - Janelle Landauer

Album picks: "I'm A Road Hammer," "Overdrive," "Call It A Day," and "Willin'."

The Road Hammers

Self-Titled

Very interesting music from The Road Hammers on this self-titled work of art.  The Road Hammers features all trucker based theme songs from some of Canada's known artists including Jason McCoy.  The Road Hammers are very hard to describe.   I would throw caution to the traditional or regular country music fans, but the album needs to be heard.  They fit in somewhere in country-rock scene and one thing remains - great music.  Picture this:  Emerson Drive singing 18-wheeler rockin' music.  That was my initial thought after