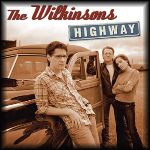 The Wilkinsons

Highway

US Street Date: March 29, 2005

Highway by The Wilkinsons will be released in the US on March 29.  Based on their previous albums, I was expecting this album to hit the "wow" factor.  To be quite honest though, this release from The Wilkinsons was not my favorite from them.  I especially thought that their 1998 album release "Nothing But Love" slightly overshadowed this album although I did still enjoy "Highway."  "Grains of Sand" stood out among the favorites from this album along with "Leaving Song," "and "Williamstown."

For some reason, I've always thought that the ballads have stood out more than the up-tempos on anything that they sing.  Highway is a good effort by The Wilkinsons, just not my favorite album from them. - Janelle Landauer

Album picks:  "Leaving Song," "Williamstown," "Grains of Sand," and "Not Today."