THOMAS-MARX featuring Higher Ground

by Janelle Landauer

Thomas-Marx featuring Higher Ground has already started to become extremely popular with the young country music fans. More than 2,000 fans attended from across the United States, when the duo performed at the County Line in Melbourne.  "What Would Your Memory Do," the first song to gain recognizable credit for the duo, is one of the most requested songs at two major clubs in Florida: 08: Seconds Orlando and The County Line Saloon Melbourne.  Thomas-Marx will begin a tour in early October traveling throughout the Midwest.

The country music industry is definitely lacking creditable duos and I'm sure it's only a matter of time before one of the major labels in Nashville signs this fantastic duo.

CD Review

Fasten Your Seat Belts - Thomas-Marx

Copyright 2003

The new country duo, Thomas-Marx recorded 5 quality tracks for their debut mini album, entitled Fasten Your Seat Belts.  In my opinion, their quality vocals are shown through most on their song "What Would Your Memory Do."  This song has already received noteworthy recognition from many.  Both Danny and Jeremy have lead parts on this album, which only adds to their

uniqueness and makes the duo such an amazing act.  It would be great to see a duo that changes lead vocals on different songs succeed in the industry.  Not only do Thomas and Marx have such unbelievable voices, but they are also both incredible songwriters, as well.  The only con to this album is that it only includes 5 songs.  I am definitely looking forward to hearing more music from this talented duo.

Album picks: "What Would Your Memory Do," "I Don't Want To Fall In Love With you," and "This Close."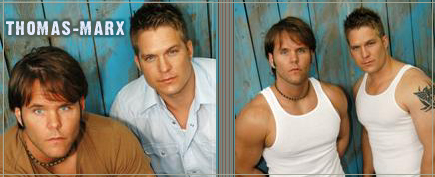 There are several unsigned artists to consider when featuring artists at Country Music Online.  It's not very often that we do a full feature on any of them.  Although we know that there are unsigned, talented artists out there, you definitely have to search to find the best.  We have decided to do our first full independent feature on: Thomas-Marx featuring Higher Ground.  There was just something that intrigued us from the very first time we heard a clip of "What Would Your Memory Do."  We ended up receiving a copy of their mini album "Fasten Your Seat Belts" and we knew that there was something special about the upcoming duo, Thomas-Marx.





  Thomas-Marx featuring Higher Ground is compromised of Jeremy Thomas and Danny Marx.  Thomas grew up




  in a small Kansas town and is currently a member of the Army Reserves.  Marx hails from Orlando, Florida




  and was a nationally ranked tennis player.  Together, Jeremy and Danny provide the leads for




  Thomas-Marx featuring the live band, Higher Ground.  Higher Ground consists of Edward Moore (Lead




  guitar, vocals), Scott Gee (bass guitar), Harold Bullard (steel guitar) and Troy Yardley (drums, vocals)




  Higher Ground was established in 1998 and has performed openers and showcases for artist such as Gary




  Allen, Trick Pony, Warren Brothers, Dierks Bentley and several others.