TOM WURTH

Album: Tom Wurth

There's a new male artist lurking around in country music and his name is Tom Wurth.  His fans have been pumping his name out for months now.  Everywhere you look, there is another fan spreading the word.

Wurth's single "Bread On The Table" quite frankly wasn't one of my favorite songs that I've heard... But, this album does have some great songs.  "If The Road Runs Out" written by Wurth, David Fraiser and Bill Luther is just one of those great songs.

01

02

03

04

05

06

07

08

09

10

11

12

13

14

15

Leaving Lonely Behind

If The Road Runs Out

Is This Lonely

Bread On The Table

Make Time For Lovin' You

She's Still There

Good Ground

I Can Bend

Love Made Me Do It

Give It To Me Straight

Bad Case of Missing You

Everytime I Close My Eyes

It Ain't What You're Thinkin'

Higher Ground

I'm So Lonesome I Could Cry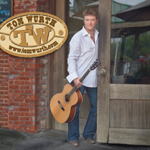 "Is This Lonely" shows simplicity in the chorus and it works great for this song.  "Is This Lonely" was written by artist Ray Herndon along with Brett Jones.  Tom Wurth is at his very best here and this song brings out so much vocally.

Another highlight from Wurth's album is "Make Time For Lovin' You" which Wurth co-wrote with Robbie Chevfront and Dean Sams.  "Higher Ground" shows a Christian/country side of Wurth and it's also among the top picks from this 15 song self-titled release.  Wurth co-wrote this song with Glen Mitchell and Bart Butler.

A near fatal car crash had nearly left Wurth paralyzed but Wurth states that God, Vince Gill and Steve Wariner got him through it. 
"I told God that if he let me walk again, I would chase this [music] thing until I could walk no more."
-  Chasing this music dream is where Wurth is now - and he's headed in the right direction [with the release of this CD].  He is truly blessed with a good voice and he's a budding songwriter as well.  I think Wurth has the potential to go somewhere with his music... I don't think he's completely there yet, but he has the potential to be.  The self-titled album "Tom Wurth" - featuring the single "Bread on The Table" is in stores now!  For more information, visit
www.tomwurth.com
-
Janelle Landauer