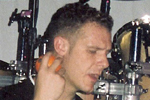 4 Pictures above © by Janelle Landauer - taken in 2000

» Click on thumbnails for full view! »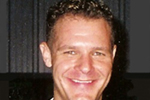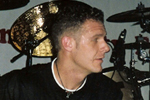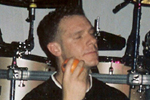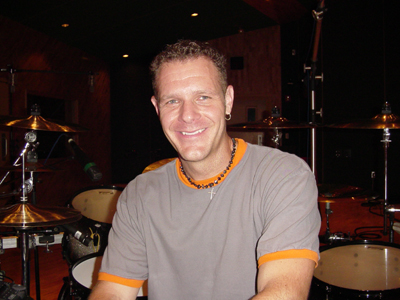 Musician Spotlight: TRACY BROUSSARD - Drummer with Blake Shelton

By Janelle Landauer

Imagine auditioning for a spot on tour with an up-and- coming country music artist, getting the gig, and then finding out that you'd be part of the opening act for the huge Shania Twain tour.  This is exactly what happened to drummer TRACY BROUSSARD, who at the time had just started playing drums with Shane Minor.  Broussard went from playing R & B and Funk in front of about 20 people in a Nashville club to playing literally in front of 25,000 country fans in just a few months.

Broussard moved to Nashville 10 years ago hoping to get a touring gig and make a living doing it.  Though he admits that it did take longer than he had expected, Broussard has accomplished that and has played for some really great country acts.  Broussard states, "I have had the pleasure of working with some very talented artists in my career.  In 1996, I toured briefly with Amie Comeaux, a Louisiana artist who was signed to Mercury Records.  I also toured briefly with Mila Mason in 1998.

The Shane Minor gig in 1999 got things started and that led to gigs with Rebecca Lynn Howard, Doug Stone, Craig Morgan and Cyndi Thomson.  In late 2001, I joined Jamie O'Neal and then on to Blake Shelton in 2003."

Everyday on the road with Blake Shelton is "something new and usually hilarious" said Broussard.  When asked of his favorite memory on the road with Blake so far, one thing came to mind. "One of the things that sticks out is when Blake came out to play basketball on the Toby Keith tour with a pair of pink shorts.  Toby would not take the court until Blake put something else on.  So, Blake opted for Wranglers."  Who would have known that Blake Shelton was quite the "pot-stirrer" (as Broussard puts it) on the road?  Well, really I think you could have guessed that one!

Being out on the road with Blake Shelton has also opened other doors for Broussard and his music career. 
"I am currently working with Blake's bass player and bandleader, the incomparable Rob Byus and producer Kyle Miller on a Rock project.  You can check out me and Rob's music at his myspace - myspace.com/robbyus.  We are having a blast and it is really fun to play a different style.  We have six songs done and four to go.  They will soon be available on iTunes.  After that is done, Rob and I will work on a Funk album.
Aside from being on the road with Shelton an average of 3 to 4 days a week plus working in the studio on his rock album, Broussard also has to balance his time with his wife, Maria and their two children, Camryn and Carter.  Broussard explains, "Everything that I do is for my family and reflects on them.  They help me realize what is important in life.  The greatest thing that I can be is a loving and caring father and husband.  I am able to travel and play music and raise a family - the best of both worlds!

I would like to thank all of the country music fans for helping me live a dream that I have had since I was a teenager.  I hope to see you out on the road this year!"

© photo courtesy of Tracy Broussard