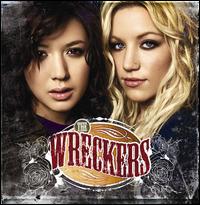 STAND STILL, LOOK PRETTY

Street date: May 23, 2006

"Leave The Pieces" is the perfect song to debut on country radio.  "Leave The Pieces" was written by Jennifer Hanson and Billy Austin.  The single has a lot of potential and sounds very unique for country music.  With all the success Michelle Branch has received in the past, i'm sure it can only help both her and Jessica Harp with their country music ventures...

Plus, it could help introduce Branch's old fans to the great world of country music!

On a couple songs, their pop/rock influences could have been left out.  For the most part, country music keeps it clean (language wise) and it is usually suitable for the whole family.  On "Cigarettes" "One More Girl" and "Rain" - there are some inappropriate words.  Straight to the point, it is just not needed on the album.  But, when the Wreckers are good - they

really nail it.  They have both been in the industry for awhile now and they have the recording process down.  Besides those three songs, the album is a really complete package with several promising songs.

The true standout tracks on Stand Still, Look Pretty are: "The Good Kind," "Tennessee," and the title track.  The title track "Stand Still, Look Pretty" has a raw acoustic feel to it.  Several songs on "Stand Still, Look Pretty" actually have this same acoustic vibe to them, and it seems to work in their favor.  Their vocals shine through nicely and the instruments are not overpowering.  Stand Still, Look Pretty is a really good release for a debut country effort.  Even though Stand Still, Look Pretty is more on the country/pop or country/acoustic side, it is still a pretty good album.  If they stay focused on "country" and leave the language behind, I think they'll have a great shot at making it in country music. - Janelle Landauer

Top picks:  "Leave The Pieces," "Stand Still, Look Pretty," "Lay Me Down," "Tennessee," and "The Good Kind."

Leave The Pieces

Way Back Home

The Good Kind

Tennessee

My, Oh My

Stand Still, Look Pretty

Cigarettes

Hard To Love

Lay Me Down

One More Girl

Rain

Crazy People

New Artist Feature: The Wreckers (Michelle Branch & Jessica Harp)