Ty Nelson released his self-titled album earlier this year.  I must admit, I was impressed with this





effort by Nelson.  Nelson remarkably reminded me of a young Kenny Chesney.  This, of course, is a





good thing.  "Broken Man" showcases Nelson's crisp clear vocals most notably.  Nelson is an





astonishing singer and songwriter.  Nelson co-wrote "Where I've Never Been" with Michele Myers





and Kevin Fisher.  "Same World, Different Windows" puts in perspective what one person may see





as something bad, could actually be causing good for someone else.  The chorus goes like this: 





"Same world, different windows, everybody has their point of view, for every storm cloud there's a





rainbow, what you see is up to you."
This is such a touching song.  The interpretation of the lyrics





at the end is just unbelievable.  This song is also a perfect match for Nelson's range.  For the most part, this album highly achieved what most albums try to do:  Impress the fans, media individuals, and the music industry in general.  There have been a couple independents this year with scorching talent and Ty Nelson is one of them.  Ty Nelson is a fantastic album by an undeniably talented newcomer.  For more information, check out: 
www.tynelson.com
Album Picks: "Broken Man," "Where Would I Be," "Same World, Different Windows," and "Power of a Song."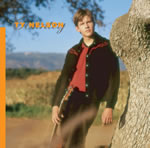 Ty Nelson - Ty Nelson Review