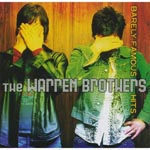 The Warren Brothers

Barely Famous Hits

The "Barely Famous Hits" features the "not-so-famous" duo, The Warren Brothers.  The album was released to stores on August 2nd.  The "Barely Famous Hits" features the tracks which were used for their CMT series, "Barely Famous."  The Warren Brothers are one of those bands you just don't know "where" and "how" to classify.  On some songs, they are rarely country and on others their country roots shine through.  Brad and Brett Warren are really just the outcasts of Nashville and seem to have a string of not so successful releases.  That could be because of their style or weird sense of humor, or maybe because their music isn't country enough.  You can decide for yourself

after hearing their new album.

"Barely Famous Hits" surprisingly has several stand-out tracks.  I say surprisingly, because The Warren Brothers and the show "Barely Famous" was quite the joke.  I can't speak from everyone's perspective on the whole show in general, but I will speak from what I saw.  Yes, the show had some, I guess "funny moments" but overall I can't see who would want to watch the Warren Brothers reality every day.  A couple of the shows were well worth watching especially from a backstage point of view.  Other shows, like their doctors' visit or what not, were honestly not worth the satellite bill.

With this album though, you find the music, not the show and that is a great thing.  On "Barely Famous Hits" you will find a couple of their hits including "Sell A Lot of Beer," "That's The Beat of A Heart" with Sara Evans, and "Where Does it Hurt."  The Warren Brothers have released a lot of songs throughout the years, but they haven't been able to tear down the thick walls of Nashville and the music industry, yet.  The Warren Brothers have done a lot to further their career  hosting Nashville Star, touring with Tim McGraw and releasing a couple albums, but they are still relatively unknown to the majority. 

The "Barely Famous Hits" starts off with "Change" which is currently on the Top 20 countdown on CMT.  "Change" is actually a pretty good song and shows great instrumentation from the duo.  The next song, "What We Can't Have" is also pretty good. "What We Can't Have" describes everything we may want but seemingly enough can't have.  You may want to be somebody else but sure enough, they could want to be just like you.  "We all want what we can't have" 

"Where Does It Hurt" and "That's The Beat Of A Heart" are the favorites from this collection of Warren Brothers songs.  "That's The Beat Of A Heart" featuring Sara Evans was in the "Where The Heart Is" movie which starred Ashley Judd.  "Where Does It Hurt" is a great country song.  The chorus speaks for itself:  "Where does it hurt Where is the pain?  You know if I could, I'd make it go away.  It's not the end of the world, not heaven on earth.  Can I make it better, where does it hurt?"

Before hearing this album, The Warren Brothers would have probably been last on my list to recommend for albums.  After hearing the "Barely Famous Hits," I would actually recommend it.  Not just for "That's The Beat Of A Heart" and "Where Does it Hurt," but for "What We Can't Have" and "Move On" as well.  For all of you that enjoyed their singles - "Hey Mr. President" and "Sell A Lot Of Beer" - you can also find those singles on "Barely Famous Hits."  For the most part, this is actually a good album  look past the show and find a great compilation of songs from the Warren Brothers. - Janelle Landauer