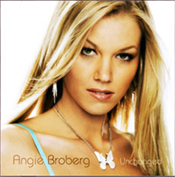 Angie Broberg

Unchanged

Angie Broberg's sophomore album,
Unchanged
is compromised of many potential tracks including "Just Another Day," "Almost There," "I Don't Want A Heart," and "Beautiful."  Broberg co-wrote "Beautiful" with Jamie Wigginton.  Curb Recording artist JoDee Messina co-wrote "One Good Reason" with Kris Bergsnes and Jeremy Stover.  "Just Another Day" is definite radio material along with several other tracks.  Broberg has a career in country music just waiting for her.  All in all, this album is definitely worth checking out.  For more information on Angie Broberg, please visit her website at: 
www.angiebroberg.com
- Janelle Landauer
Album picks:  Just Another Day, Almost There, Beautiful, and Where Have I Been All My Life.

Track Listing: Click on select titles for clips

4.  I Still Believe In Love        5.  Almost There              6.  Unchanged

7.  You Must Be Missin' Me  8.  I Don't Want A Heart    9.  Take It                10.
Beautiful