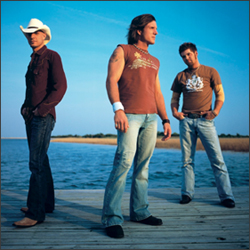 They never gave up though and they stayed true to themselves and their music - even when it meant walking away from other deals. "We've walked away from other record deals that wanted to turn us into something different." [On this record for Equity] "We got to play on the whole thing ourselves.  Do our own songs that we wrote.  This record really is us."

When Carolina Rain went to record for their debut album, they wanted to capture a new sound.  They wanted to create an album that people could listen from start to finish and not want to cut it off.  They have accomplished what they set out to do - musically - and "Weather The Storm" brings new life to country music.  "Weather The Storm" is intriguing... even quite captivating with pure harmonies and a solid list of songs.  Eleven of the 12 songs on "Weather The Storm" were written or co-written by members of the group.  Boyer explains, "I started a rough road fairly early in life.  I started drinking a little bit, experimenting with that.  I ended up quitting school 10th grade.  I just took kind of a winding road to get to a point where the good Lord gave me a chance to change my life and I just really dove into music.  Life really gives me inspiration.  Plus, I'm surrounded by so many great people.  My wife and my kids - It's not hard to find ideas.  The past is most certainly inspiration for songwriting to me.  Really, the inspiration for all the songs has to do with people that you come across throughout your life."

And, those people that Boyer mentions are the fans and friends that they meet out on the road.  "It really is a thrill to get to go out and just meet new friends.  We've got new friends in every port now.  Everywhere we go.  I've asked God to increase my circle of influence in my friends and he's done that, beyond belief.  You [the fans] have no idea how much we love you guys and appreciate you.  I love what I do with all my heart and I couldn't do it without them.  When I see people sharing the same experiences that I shared through my song and it means something to them - it just makes it all worth it to me.  It makes every single airport and every other layover worth it."

By Janelle Landauer

Carolina Rain is a new trio signed with Equity Music Group in Nashville.  Their debut album "Weather The Storm" was released on September 19, 2006.  The album features their hit single, "Get Outta My Way" along with several other inspiring songs.  Rhean Boyer (lead singer, guitar, principal songwriter), Jeremy Baxter (tenor harmony, mandolin), and Marvin Evatt (low harmony, guitar, banjo) all co-wrote "Carolina Rain" (the song) which ended up being the song that would name the group.  "After we started getting attention around town singing, we decided we needed a name.  We went through several names together and just kind of borrowed the name.  It just got stuck.  We ended up being known as Carolina Rain pretty fast" says Rhean Boyer.

Carolina Rain has been together a long time.  Seven years to be exact and as Boyer points out - that's quite the accomplishment in itself.  "We've certainly had occasion to look at each other and say - well we've given it our best - let's move on."