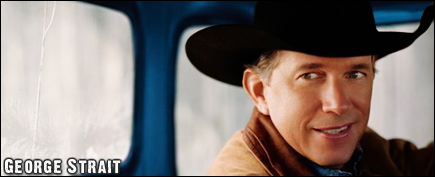 George Strait: 'Troubadour' – Album Review

Let's list a few facts about George Strait.  He has released 37 studio albums, 32 of which are platinum and 13 of those multi-platinum, for a total of more than 67 million records sold.  At present, he has 56 number one songs, more than any artist in any other genre.  With numbers like these, it should come as no surprise that King George's latest release, Troubadour, is yet another album of quality George Strait music.

King George does something very few other artists can do – continue to make good music as the


times change while never losing sight of what makes their music theirs.  Troubadour is an album that is good start to finish, proving why he is one of the most reliable artists in the music business.

The album begins with "Troubadour" – a song that resembles George's career.  One definition for 'troubadour' is 'a strolling minstrel' and in a way, that's exactly what George is – his career strolling through the decades from one song to the next.  The chorus reads I was a young troubadour when I rode in on a song and I'll be an old troubadour when I'm gone. George's career is summed up nicely in a single line of a song about growing old but feeling young.

A personal favorite from Troubadour is "House of Cash".  This song cannot be described with any word besides brilliant.  Patty Loveless lends her voice to this duet paying tribute to not only music legends Johnny and June Carter Cash but also to their home which was lost in a fire last year.  The song channels both mountain music sounds and a level of emotion and respect that can only come from artists who know just what Johnny and June meant to the country music community.  The lyrics themselves are flawless with references to Johnny's "Ring of Fire" and the Carter's fancy living room.  This song will be an instant classic.

The great thing about Troubadour is that there is a little bit of everything on it.  There are heartbreak ballads such as "House with No Doors"; western swing music is heard on "West Texas Town" (a duet with Dean Dillon), and "River of Love" has island sounds infused throughout.  "Give Me More Time" is a sobering reminder that time isn't promised saying Some have barely any, some too much on their hands, some would give anything to have it back again.

"I Saw God Today" was the first single from this album and it became George's 56th number one single.  Personally, I have listened to the song countless times and have yet to make it to the end without shedding a tear.  The lyrics to this beautiful ballad are powerful enough to make listener stop in their tracks and take in the blessings surrounding them.

Troubadour is the kind of album that will go down as a classic.  It is an album that every country music fan needs – yes, needs.  It is also sure to produce at least a couple more number ones for George Strait – the "king of country music."

'Troubadour' Review  |  Lyrics