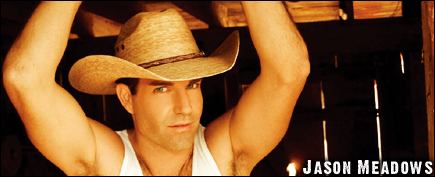 Many country music fans may recognize Meadows from the USA Network show, Nashville Star.  Meadows received noteworthy attention on the third season of the show where he was the 1st runner-up.  He proved on the show that he had the vocals and songwriting ability to make both industry folks and country music fans take notice.  After the show, Meadows signed on with a new independent record label, Baccerstick Records – the label which released his debut project on July 10, 2007.

One of the fan favorites from Meadows' debut album is "18 Video Tapes" – a powerful song about a dad who knows that he won't be there to raise his son, so he makes 18 video tapes that will help the son when he faces different parts of his life.  "18 Video Tapes" is a touching story song, and it is what country music is all about.

The video for "18 Video Tapes" was nominated early on for a CMT Video Music Award too – and even though it didn't make the final cut, this is still a huge accomplishment for a new independent artist.  Meadows was up against some tough talent including Tim McGraw, Faith Hill, Kenny Chesney and Reba McEntire.  The song was also the first video from YouTube to ever be added to CMT, and oddly enough, the video doesn't even show Meadows anywhere in it.  Director Jeanine Pellegrino made the video using real photos and clips from military families and created the video for the non-profit organization HUGSS

Another one of Meadows' top songs, "Just Pray" looks at various challenges that people deal with in life and shows that having a little faith can play a huge part in your life, "if you just pray."  "Just Pray" is one of the strongest songs on the project, and it's also nice to see another side of Meadows.  "Where Did My Dirt Road Go?" is Meadows' new single which goes for adds on April 17, 2008.  The song was written by Meadows and Scott Filson.

Overall, 100% Cowboy is just that – 100% Cowboy songs.  From the title track, to "Country As A Dirt Clod" to "Where Did My Dirt Road Go" and even "Farm Girl" – this is a cowboy-driven collection of songs.  And, there's nothing wrong with that, but I think on future releases, it would still be nice to see even more of a variety of songs from Meadows.  He really shines on "18 Video Tapes" and "Just Pray" so having a few more songs along the lines of these would be a great addition to his signature cowboy tracks. 


Jason Meadows: 100% Cowboy — Album Review

by Janelle Landauer

Jason Meadows enjoys fast horses, faster dirt bikes and the country lifestyle.  His debut CD, justly called 100% Cowboy suits both his love for music and rodeos perfectly.  Imagine George Strait thrown into the mix with the old country group Smokin' Armadillos, and you'll have a sound that best describes Jason Meadows.  It might sound like an odd combination, but it actually works for him.  The album's title track and debut single, "100% Cowboy" shows the hard work that cowboys endure and the overall cowboy way of life.  Meadows sings this song with conviction and he fits the role that he sings about.