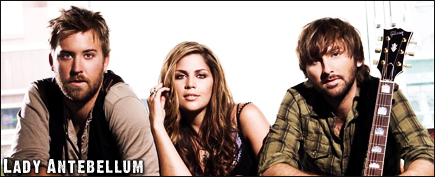 Lady Antebellum: 'Lady Antebellum' – Album Review

Move over Rascal Flatts, there's a new band in town!  With the release of their self-titled debut album, Lady Antebellum has established themselves as the best thing to come out of Nashville in a long time. Their album is fresh, the songs are tight, and their country flavored style with rock and soul sound is uniquely their own. Made up of Charles Kelly, Hillary Scott and Dave Haywood, Lady Antebellum has turned out an album that every country music fan should have on their playlist.

The group's debut single "Love Don't Live Here Anymore" leads off the album. A top ten hit, the song


about telling an ex to hit the road when they come back around looking for love is striking a chord with fans everywhere. It's followed by "Lookin' for a Good Time", a playful song that has Charles and Hillary singing back and forth to one another about the potential for a one night stand. Hillary takes over vocals on "Long Gone", a song about a woman who is no longer the woman who used to let her ex come and go in her life as she pleases. With lyrics like Gone like the wind under Superman's cape, like a thief in the night I made the great escape, this single has the potential to be a big hit.

While the album is relatively upbeat, there are a few powerful ballads scattered throughout. "All We'd Ever Need" and "Things People Say" both delve into the depths of a broken heart while "Can't Take My Eyes Off Of You" is a beautiful love song with a smooth, jazz-like sound behind it. Hillary again handles the lead vocals and does an incredible job of it. "One Day You Will" closes the album out with a hopeful message. It reminds listeners that they will one day rise above the troubles they may be facing in their lives and also to look forward to happy times yet to come.

"Home Is Where the Heart Is" may be named along the lines of a common phrase, but the song itself is anything but common. It begins with the lines I felt I was spinning my wheels, before too long the road was calling and the song chronicles the journey of a girl who learns that home truly is where the heart is. The chorus says it all: And that's where my heart found exactly where I'm supposed to be.

A personal favorite from the album is "Slow Down Sister", a song about a guy falling for a girl who is moving too fast for his jaded heart to handle. He's asking her to slow down and go about building their relationship the right way. Charles takes the lead vocals on what is one of the best songs on the entire album.

David, Charles, and Hillary have an album to be proud of. It debuted atop the country album charts after selling over 43,000 copies in its first week and has the distinct privilege of being the best debut album by any country artist in a long time. Keep an eye and an ear on Lady Antebellum. They are definitely the new band in town.