Tracy Lawrence is a rarity in country music.  He has one of the few distinguishable voices in the industry that does not get lost in the mix of artists who all sound like each other.  Lawrence has had his ups and downs, but he continues to stay focused.  Lawrence delivers his best product yet with "Strong."  With a new single, new label, and new record, Tracy Lawrence is coming on strong!

A note from Tracy to all his fans:

The biggest thing I would like to say to my fans is to thank them so much for being so loyal through all these years.  I've seen a lot of ups and downs of the business.  I have the best fans in the entire industry.  I mean, I have some really devoted fan members out there.  They follow me from show to show.  I've developed a lot of close relationships with a lot of them through the years.  I really try to be as accessible to them as I possibly can.  I take time for them here during fan fair and do stuff for them just with my fan club.  I really just want to be really appreciative and thankful.  They've been through a lot with me.

A note to Tracy:

Thank you for taking the time out of your busy schedule to participate in the interview!  We appreciate your support.

Tracy Lawrence is back with a new record deal and a new CD.  Lawrence released "Strong" on March 30th.  "Strong" contains 12 songs including "Paint Me A Birmingham" and his recent single "It's All How You Look At It."  Lawrence is partial to certain songs.  Lawrence explains, "I look for things that I have some sort of personal connection to.  I look for things that have some sort of life meaning to them.  I'm partial to things that move me."

"Strong" contains several songs with powerful messages that move many.  From "Paint Me A Birmingham" to "Stones," this album really has radio potential tracks.  Tracy recently explained what "Stones" means to him.  "Stones" - that's the kind of song that I really -in my heart- came to Nashville to record.  I had a lot of success with things like that deal with life scenarios like "If my world had a front porch" and "Time Marches On."  I put "Stones" in that same category.  That to me, is what country is about.  That's a hard core country song.  I loved it because of the life message in it.  I thought it was a great song just about life. Very emotional, very powerful.  James really outdid himself on the track.  Keep your fingers crossed, I'd like to see this as a single.

Lawrence is one of the few artists that has so much achieved for his age.  At just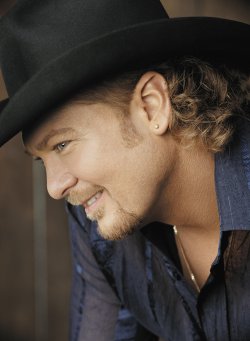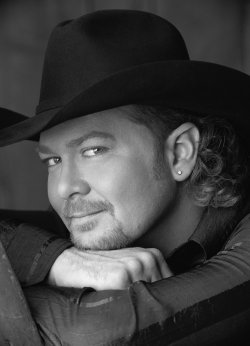 Tracy Lawrence: Strong

By Janelle Landauer

35, he has produced more #1 Billboard singles on the country charts than the likes of Glen Campbell, Keith Whitley, Wynonna or Barbara Mandrell, just to name a couple.   Lawrence goes on to add more about his accomplishments.  "I think just having the success over the last 10 or 12 years has been a pretty big accomplishment.  Seeing a lot of things come and go.  Just being able to maintain and continue to have hits periodically in the music business is a pretty big accomplishment in itself.  I would like to see us get to the situation to maybe we'll pull down some awards in the next 5 years.  Get position to be in the more top 10 percent of the field.  I think that's pretty much the goals that we have as far as myself and the label and as well as where we see my career going."