SUGARLAND: Enjoy The Ride

Street date: November 7, 2006

A little over two years ago, Sugarland released their first album on Mercury Nashville to the country music world.  They are back now with their sophomore album, Enjoy The Ride.  The once trio - now duo (after Kristen Hall parted ways) - released Enjoy The Ride on November 7, 2006.  The album features the lead single from the album "Want To" which Jennifer Nettles (lead) and Kristian Bush (guitar, bgv) co-wrote with Bobby Pinson.  "Want To" proved to be a good choice for radio currently at the #4 spot this week (Nov. 8, 2006).

Settlin'

County Line

Want To

Everyday America

Happy Ending

These Are The Days

One Blue Sky

April Showers

Mean Girls

Stay

Sugarland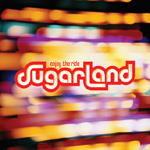 Produced by Byron Gallimore, Kristian Bush and Jennifer Nettles

Mercury Nashville Records

Enjoy The Ride is clearly a collaborative effort between Nettles and Bush.  Whereas their first album Twice The Speed of Life featured more of Nettles solely on vocals, Bush steps out on Enjoy The Ride and shows a new side to this duo.  Bush sings the second verse on "These Are The Days" showcasing his country/rock vocal style.  Bush's vocals at times resemble those of John Mellencamp.  It's great to see such a unified effort between Nettles and Bush on this project.

Nettles or Bush also wrote or co-wrote every track on this album.  When they first arrived a few years ago, there was a chance that fans and the industry would rule them out because honestly they brought a different sound to country music.  Fans and the industry embraced them though and they are surely having the ride of their life.

"Settlin'" should be a single released from this album.  If one song stands out as having the most potential for radio success, it is "Settlin."  "Everyday America" has a cool groove and this song just flows well.  It's not really country, but it is different and that's what makes this song so good.  Sugarland's road band also steps in playing in the studio on this track.

I really enjoyed "These Are The Days" for the reason that Bush finally gets his time to shine.  It shows who "Sugarland" is as a duo.  "April Showers" shows how well Nettles and Bush harmonize and this is another quality song.  "Mean Girls" is the weakest link on the album, even though Brad Paisley tipped in on playing guitar.  This song just doesn't go anywhere... There's no direction to it and it's not anywhere close to a favorite from Sugarland.

"Stay" - is a wonderful acoustic track which Nettles wrote.  Bush backs her up on guitar and Brandon Bush (Kristian Bush's brother) contributes on the organ.  Nettles and Bush have stepped up their songwriting.  Though their debut had a lot of great songs - this album is clearly an effort between the two and it shows.  They have displayed so much growth over the last few years and I really think they are coming out into their own now... Highlights from Enjoy The Ride include:  "Settlin'," "Want To," "Everyday America," "These Are The Days," and "Stay." Janelle Landauer 

Featured Artist:  Sugarland